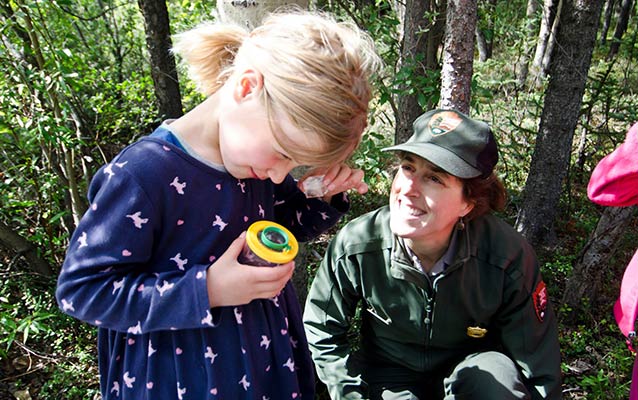 In July, 2014, seven arthropod researchers from across the United States journeyed to Denali National Park and Preserve to take part in the Park's first ever "Bug Bioblitz". The goals of this citizen science event were to increase our knowledge about insect diversity in Denali and to engage the public in research side-by-side with scientists.
The first day of the Bioblitz created an atmosphere of discovery as visitors joined scientists in a variety of different events. Activities included collecting bees and flies from traps along front-country trails; indoor lab sessions where kids and adults alike helped identify specimens using microscopes; a catch-and-release activity for families; and an evening presentation that illuminated each scientist's research focus. 
For the next three days, the scientists headed into the backcountry to focus on collecting samples. Among other exciting finds, they captured some of the first official water mites ever collected in Alaska and at least one species of beetle that may have been previously unknown to science. The collection days were a productive time for scientific discoveries and helped further our understanding of Denali's unique ecosystem. 
Although Bioblitzes occur across the nation, they vary greatly from park to park in both structure and goals. Denali's Bioblitz effectively encouraged the public to interact with scientists, as well as allowed time for the scientists to make independent biodiversity discoveries.
Funding for the Denali Bug Bioblitz was provided by the Natural Resources Advisory Commission of the National Park Service, Denali National Park and Preserve, and Alaska Geographic through the Murie Science and Learning Center.
Last updated: October 1, 2015