Barbara Washburn's Historic Ascent
By Erik Johnson, Denali Historian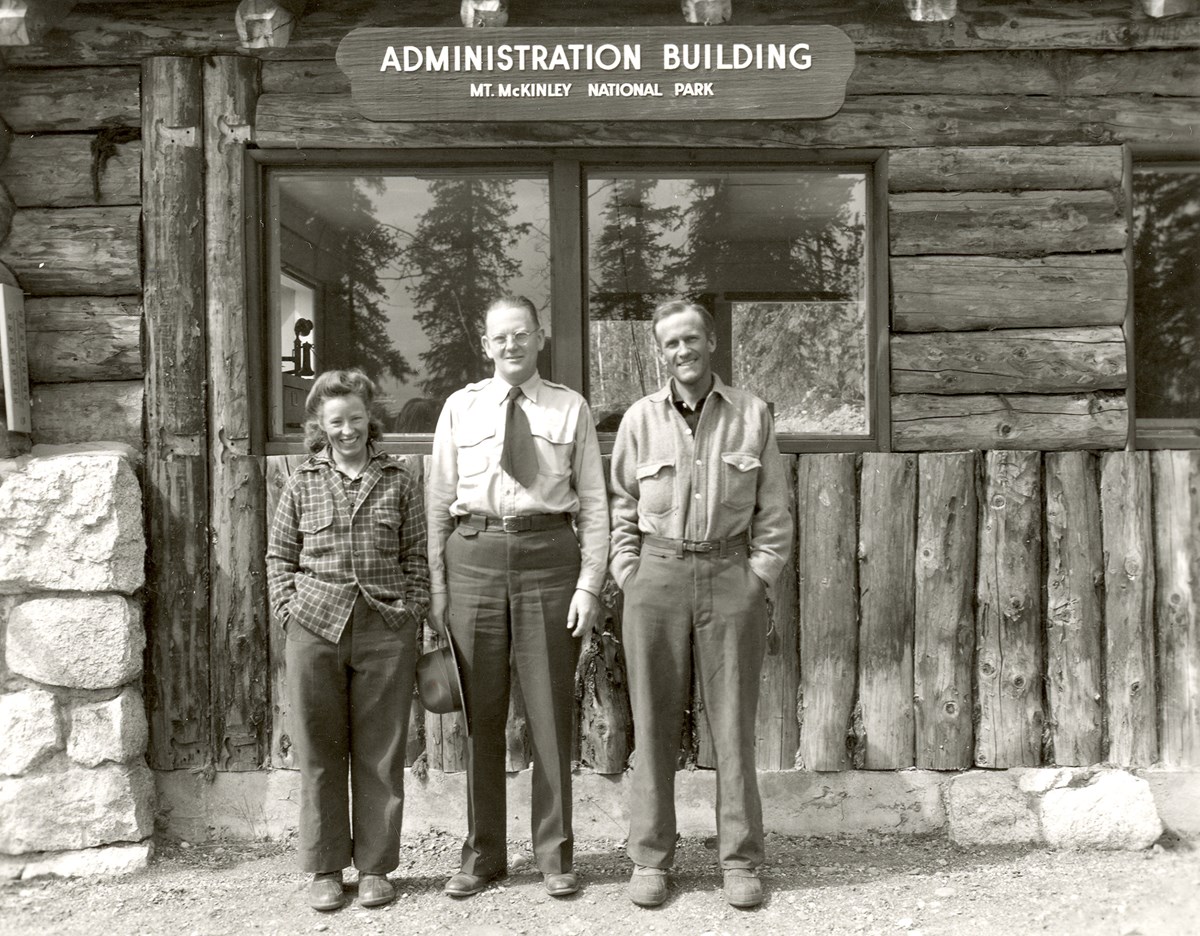 At Denali, March is when mountaineering season starts winding up, with climbing rangers returning after a winter away. As it's also Women's History Month, it is a good opportunity to reflect on the adventurous life of the first woman to summit Denali.
The
Operation White Tower
expedition commenced in the spring of 1947 with the goal of mapping and filming the highest mountain in North America. Barbara Polk Washburn was the only female on the team of mountaineers, photographers, scientists, and military men.[1]
Ascending Denali was not Barbara's first mountaineering experience in Alaska. As she described in her memoir, marrying the adventurous Bradford Washburn essentially determined her fate as a mountaineer. She wanted to be with Brad and often that meant working side-by-side as a cartographer and explorer, making first ascents of Alaska peaks together, and taking risks. This was a departure from the traditional domestic roles many expected married women to fulfill during that time.[2]
On June 6th, 1947, Barbara summited the south peak of Denali, the first woman and one of the first twenty people to ever make a successful ascent of North America's highest point. The following day, Barbara summited the north peak, and shortly afterward radioed a Seattle bureau of international news service to describe the historic moment:
You ask how it feels to be the first woman to reach the top of Mt. McKinley. Well, it was the thrill of my life . . . . To be the first woman to 'top' Mt. McKinley was a challenge—a difficult challenge, and not one I could take to heart for fear of keen disappointment. So, I just decided to live day to day; enjoy the exercise to the fullest, and to climb as high as I could. The worst obstacles—for the men as well as for me—are the altitude and physical stamina required to make the final climb . . . . Headaches and nausea plagued me, even after a full week at this altitude. Every move required excessive physical exertion . . . . I stepped onto the summit, turned and looked 20,000 feet down one sheer slope, stepped back quickly to gain my balance and felt something foreign under my feet. This proved to be two willow wands left there by the army expedition which ascended the mountain in 1942. After catching my breath, full realization gradually swept over me that actually I was on top of North America.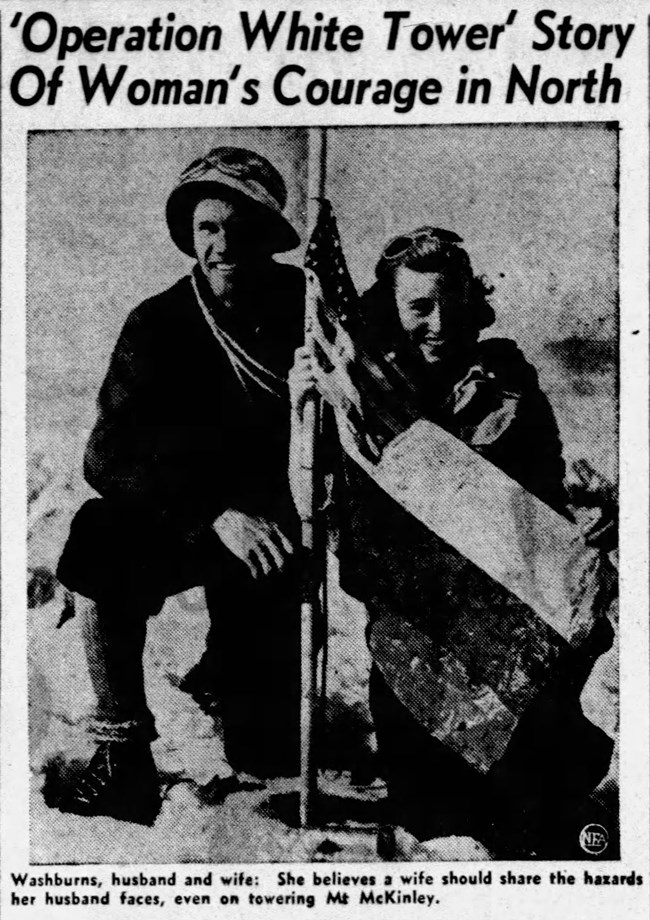 "As chic in mountain attire as a movie heroine in cowboy clothes"
Media throughout the United States followed the expedition and often commented on Washburn's courage. They also could not resist assessing her style (the description in the subheading above appeared in multiple publications). Washburn quipped that any woman could climb the mountain if they had "the desire to be uncomfortable."
Barbara was the first woman to make the ascent, but numerous women have followed in her footsteps. Last year, Denali Mountaineering Ranger Melis Coady
highlighted some of the achievements
women have made in the male-dominated sport of mountain climbing.
For more details about Barbara's life and climbing adventures,
listen to her oral history
from the University of Alaska's Project Jukebox, or check out her book
The Accidental Adventurer: Memoirs of the First Woman to Climb Mount McKinley.
---
[1] The expedition included her husband Bradford Washburn, Grant Pearson (chief ranger and later superintendent of Mt. McKinley National Park), George Browne (son of Belmore Browne, an artist-explorer who was instrumental in getting McKinley National Park established), Sergeant James Gale, Lieutenant William Hackett, Robert Lange, Hugo Victoreen, Earl Norris, William Deeke, George Wellstead, Hakon Christenson, Harvey "Red" Solberg, Len Shannon, and William Shannon.
[2] Earlier in the decade, Barbara was a part of the first ascents of Mt. Bertha and Mt. Hayes.
Last updated: August 4, 2020