Demmer Scholars Hike through 2012 Wildfire at Shenandoah National Park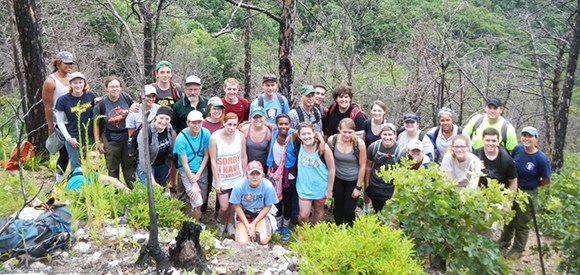 On August 2, 2014, a group of talented students from Michigan State University and Mississippi State University hiked six miles through the 2012 Neighbor Mountain fire at Shenandoah National Park. Students in the William A. Demmer Scholars Program take a senior-level class in natural resources policy that meets one night a week and all day Saturday while working full-time as paid interns at federal agencies or nongovernmental organizations that focus on natural resources.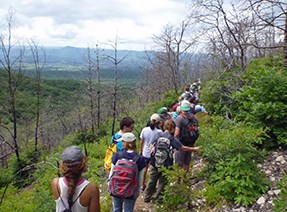 Now in its sixth year, the program's 28 students are interning at a number of high-profile agencies and groups, including Trout Unlimited, the US Department of Agriculture, the US Department of the Interior, the National Fish and Wildlife Foundation, and the US Forest Service (USFS).
Since the program's inception, 137 Demmer Scholar interns have participated. To date, 25 have found employment in government and nongovernment natural resources positions in the Washington, D.C., area after participation.
The program is led by Mark Rey, executive in residence in the Michigan State University Department of Fisheries and Wildlife and former US undersecretary for natural resources and environment. In that position Mr. Rey oversaw the US Department of Agriculture's Forest Service and Natural Resources Conservation Service.
"Through these internships, the students get real-world experience, see classroom principles applied in practice, and make valuable career contacts for educational and employment opportunities in the future," Rey said. "The course reviews and analyzes how each branch of federal government, as well as nongovernmental groups, including the media, affect the development and implementation of federal government policy in the natural resources area."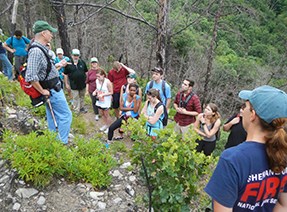 Author, speaker, and educator John N. Maclean also joined the group and gave his insight on wildfire policy and tragedy wildfires. John N. Maclean, prize-winning author and journalist, has published four books on fatal wildland fires, most recently "The Esperanza Fire: Arson, Murder, and the Agony of Engine 57," an account of an arson fire in 2006 in southern California that took the lives of a five-man US Forest Service engine crew. Maclean is well known for his first book, Fire on the Mountain, about the deadly South Canyon fire on Storm King Mountain.
Maclean said "the Fire Hike is a welcome opportunity to introduce more than a score of graduate students in environmental studies to the history and nature of wildland fire. These students are headed for lifelong careers in environmental subjects and now will have a hands-on introduction to fire's role in forest ecology and the complex issues involved in fighting it. There is no substitute for getting out in the field. It's also a chance for them —and me—to appreciate how wildland fire is an issue, and an evolving one, in eastern forests as well as in western landscapes. Eastern firefighters face many of the same issues as their western brethren: proximity of human development, changing weather patterns, burdensomely expensive fire suppression, and violent fire behavior."
The Neighbor Mountain fire was reported in Shenandoah National Park on June 26, 2012. Steep rocky terrain and limited access prevented initial responders from containing the fire. Low relative humidity combined with dry fuels allowed the fires, which were burning in hardwood leaf litter, to outpace available local resources and grow to more than 200 acres by the end of the first day. On the evening of June 29, a derecho, or severe storm, affected the area with strong winds, causing large flare-ups followed by ¾ of an inch of rain across the fire. A total of 2,138 acres was burned during the fire.
The majority of the fire burned in fire-dependent forest communities that are highly frequented by fire. The Northeast Region fire effects monitoring crew has installed 30 composite burn severity (CBI) plots to assess the effects of the fire. Current monitoring plots indicate a low- to moderate-severity fire with pockets of higher severity. Fire-adapted native trees and plants have responded favorably to the fire with excellent regeneration, and numerous wildlife and bird species have been seen foraging throughout the burn area.
The hike through the Neighbor Mountain fire area provided the students with an introduction to National Park Service fire policy, wildfire tactics, a firsthand view of fire effects, and an overview of additional natural resources issues.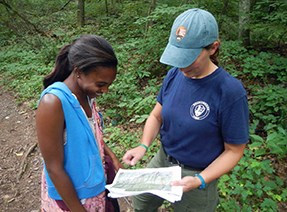 Tyler Willingham, a USFS intern currently working on policy, said, "I loved today. It's really good to see the policy side in the office and to see the work that gets done in the field. To actually see where a forest fire took place was great."
The field trip to Shenandoah National Park is rated as one of the students' highlight experiences of the summer internships in Washington, D.C., on yearly course evaluations. Many students have not had the opportunity to hike through an area affected by wildfire or see wildlife up close. This year the group was fortunate to see a black bear and many white-tailed deer. This year marks the third year for the field trip to the park.
Contact: Missy Forder, Shenandoah National Park fire ecologist
Email: e-mail us
Phone: (540) 999-3500 x3323
Last updated: January 11, 2017