Article
Tidal Basin, Washington, DC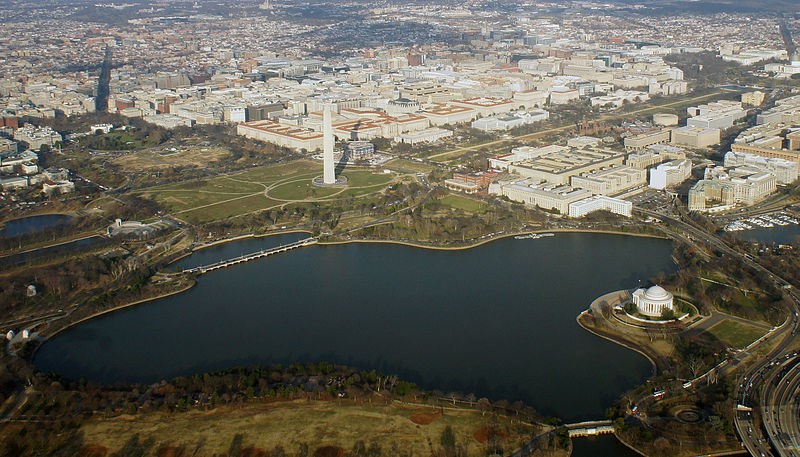 The Tidal Basin is part of West Potomac Park in Washington, DC. The
Jefferson Memorial
,
Martin Luther King, Jr. Memorial
, the
FDR Memorial
, the
George Mason Memorial
, the John Paul Jones Memorial, the Floral Library, the Japanese Pagoda, and the Japanese Lantern and site of the First Cherry Tree Planting all surround the Tidal Basin. They can all be visited via the
Tidal Basin Loop Trail
. It is the location most associated with Washington's Cherry Blossom Festival that takes place each spring.
The Tidal Basin is about 107 acres in size and approximately 10 feet deep. It was built to harness the power of the tides in the Potomac River to flush silt and sediment from the Washington Channel. Fill lands separate the Washington Channel from the Potomac River; the Washington Channel drains into the Anacostia River just above its confluence with the Potomac.
Twice a day at high tide, 250 million US gallons of water from the Potomac River enter the Tidal Basin through the inlet gates. As the tide turns, water trying to flow out of the inlet gates causes the gates to close, and the outlet gates on the Washington Channel side of the Basin open. The rush of water out of the Tidal Basin sweeps away any silt or sediment build up inside the Washington Channel, keeping it navigable
Water from the Tidal Basin is also used (via a pumping system) to maintain water levels in the Lincoln Memorial Reflecting pool.
The Tidal Basin was first built in the 1800s. The bridge over the Tidal Basin and the seawall were completed by the engineering firm of Alexander and Repass out of Iowa in the 1940s. Archie A. Alexander, an African American, graduated from the College of Engineering at the University of Iowa in 1912, where he was also a football player. In 1929, Alexander formed an engineering company with Maurice Repass; the two knew each other from both from engineering classes and the football team at the University of Iowa. Together, they built a business that focused on building bridges, with clients across the United States.
Alexander & Repass hired both white and Black workers for their projects, who worked together in mixed work crews at a time in American history when this was almost unheard of. The Tidal Basin Bridge and Seawall cost $1 million to build, and the construction employed over 160 workers.
READ
the about
West Potomac Park
, listed on the National Register of Historic Places in 1973.
VIEW
an
interactive map
of the National Mall area, including the Tidal Basin and visit the
Cherry Blossom Cam
year-round for live images from the Tidal Basin.
Last updated: July 5, 2018