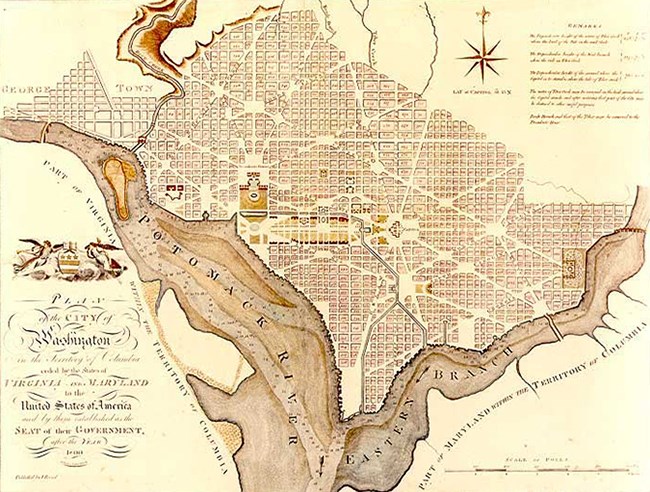 by Charles LeeDecker

Pierre L'Enfant's city plan of 1790 features a network of broad diagonal axes superimposed over a more traditional pattern of east-west and north-south streets. The most important axis, Pennsylvania Avenue, provides a direct link between the legislative and executive centers: the Capitol and the President's House. L'Enfant also planned two broad "avenues" of public land, one extending south from the President's House, the other extending west from the Capitol. These public lands are now the heart of the park lands that form the city's Monumental Core.
L'Enfant also planned a canal that would a shorter passage from the Georgetown wharves to the deepwater ports on the Anacostia River. River traffic between these points was difficult because of tidal fluctuations, a problem that was would be addressed by construction of an inland canal. The eastern leg of the canal followed the path of James Creek, and the western segment was simply the channel of Tiber Creek. When the City of Washington was first developing in the 1790s, Georgetown was already well established as the most important port on the Maryland side of the river.