Daniel Fleming - Project Specialist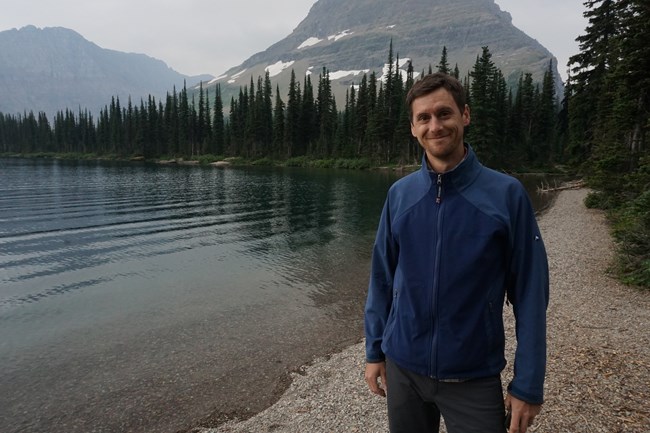 What is your name and job title? Daniel Fleming, Project Specialist with the Denver Service Center's Design & Construction Division.
What experience and education do you have? I studied Mechanical Engineering at John Brown University in Siloam Springs, Arkansas. I have been able to use that training in various areas including:
Offshore/Land Oil and Gas Drilling – Rig Construction and Operations – I worked on rig crews for a couple years as a roughneck/roustabout to gain a thorough understanding of the drilling operations and equipment maintenance programs. I then worked on the construction of modern automated drilling rigs and their utilization for directional drilling in a reserve in Central California.
Potable Water and Renewable Energy Projects as a Peace Corps Volunteer – To learn more about water access (wells and surface water) and appropriate treatment options for public health concerns, my wife and I joined the Peace Corps and were sent to Peru. Working alongside rural farmers, I spent several years in technical problem solving of existing water systems and developing educational programs for local municipalities and rural water committees. Concurrent to my water and sanitation projects, I also worked alongside a local environmental group to develop renewable energy options such as biogas and implement digester projects in the community.
Project Engineer at Jefferson National Expansion Memorial, CityArchRiver Project – My introduction to NPS was working alongside park leadership & staff to identify critical park needs in the review of the new facility. In this role, I was able to gather information from all departments of NPS staff and accompany designers/consultants on site visits during the final stages of design.
Water Engineer - Peace Corps Response – I worked at an international development agency for a USAID funded Food Security project in various communities of Western Guatemala. I was on a team of water engineers to gather water quality and infrastructure data in 13 municipalities throughout the zone. We used the information to develop geographic information system (GIS) maps and a standardized water office in each locality to strengthen local capacity for managing public potable water programs.
What is a typical day like? I am infamous for running around (walking briskly on a mission) throughout the second floor of our office building coordinating with fellow DSC team-members. One of the big projects I'm currently working on is the CityArchRiver project at Jefferson National Expansion Memorial in St. Louis, MO. It is one of my most demanding project so I am constantly busy combing through Sharepoint, developing Request For Proposal's, contracting officer directives, contract modifications, and coordinating with the project team as we work towards the finish line in 2018.
What career advice would you give to someone who wants to follow a similar path? Go boldly into an interdisciplinary adventure and explore various types of work and play. Life is short, so pursue something meaningful that you also enjoy. Peace Corps is an amazing learning opportunity at any stage of one's career or life.
What is one of the bigger projects you are working on and what about that project might surprise people? I already mentioned CityArchRiver. What many people may not know is that initially I was hired by NPS to work on the design phase from the park level. As a park employee, I was grateful for the solid leadership and experience that DSC brought to the park. That positive experience is what encouraged me to pursue my current role at DSC.
Anything else you'd like to add? If I seem overly eager or talkative, it's because my relationships with colleagues are really what make a job exceptional for me. I value meeting new people and learning from their experiences. I also enjoy playing soccer, working on my old jeep, and travelling abroad whenever possible.
Last updated: January 24, 2018