Dakota Moline Plow Company, South Dakota

Constructed in 1903, the Dakota Moline Plow Company Building was a farm machinery sales warehouse and a hardware store before falling vacant in the 1980s.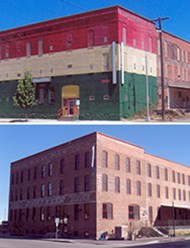 A new owner saw enough potential to invest $3.8 million to rehabilitate the building into offices, retail spaces, and apartments. Rehabilitation work included installing new windows to match the few remaining historic windows, adding parking in the basement, and creating an accessible entrance at the loading dock. Brick walls and bead-board wood siding were left exposed in apartments to recall the building's industrial past. Now called Larson Square, the rehabilitation of the historic Dakota Moline Plow building brought much needed housing and retail to the diverse Old Courthouse and Waterhouse Historic District in Sioux Falls, South Dakota.
Last updated: October 13, 2017