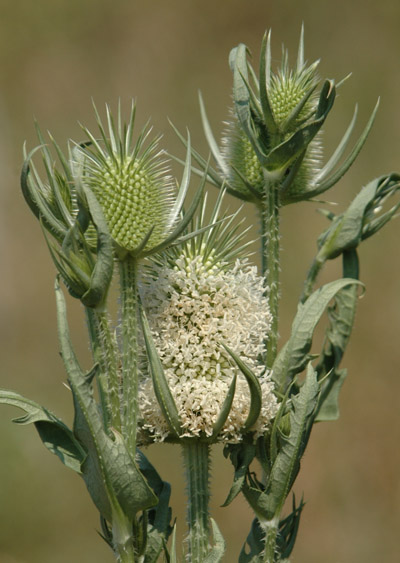 Biennial

Spends at least the first year after germination as a basal rosette, then grows a two- to eight-foot flowering stem.

Stems are prickly and branch near the top.

Basal rosette leaves are puckered with scalloped edges. Stem leaves are opposite and deeply lobed with bases that fuse to form a cup around the stem.

White flowers are very small and pack into dense, cone-shaped heads.

After flowering, the plant becomes woody and persists through the following winter.
Habitat and Ecology
Cutleaf teasel (Dipsacus laciniatus) is currently found in the Northeast, the Midwest, Colorado, and Oregon. Native to Europe and temperate Asia, cutleaf teasel may have been introduced to North America as early as the 1700s. It was likely cultivated for its role in producing wool or for its use as an ornamental. Its frequent use in dried flower arrangements may aid its dispersal; for example common teasel often occurs in and near cemeteries. Cutleaf teasel also commonly disperses along roads and waterways. It occupies sunny and open sites, such as riparian areas, meadows, grasslands, savannas, forest openings, and disturbed sites. Cutleaf teasel may not seriously reduce biodiversity, but it has the potential to become more of a problem invasive species.