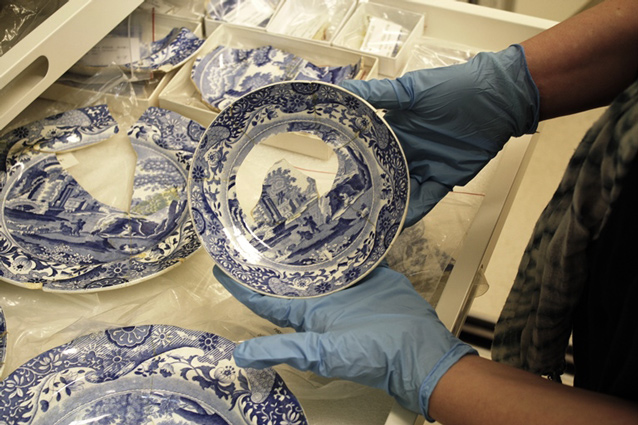 At Fort Vancouver National Historic Site, Curator Theresa Langford and Assistant Curator Meagan Huff care for a collection of nearly two million artifacts. The large majority of these artifacts come from archaeological excavations, which have been taking place at the park since 1947 and continue today. Many other artifacts are historic items donated by members of the public or purchased by the park, related to our park's units: the British fur trading post of Fort Vancouver, the US Army post of Vancouver Barracks, Pearson Field, or Kaiser Shipyards.
What does a curator do at Fort Vancouver?
Theresa:
Much of my job is planning and managing projects: museum cataloging, conservation treatment, resource-based education programs, exhibits, publications. I write a lot of grants, proposals, and agreements to make sure we have the funding and staff we need to care for the collections and share them with the public. I also spend quite a bit of time helping researchers or students who are using our collections.
Meagan: I wear many hats at Fort Vancouver National Historic Site. My primary duty is caring for the park's museum collection. This includes accessioning and cataloging artifacts into the collection, cleaning and re-housing artifacts, maintaining a good environment for the artifacts, and managing incoming and outgoing loans of artifacts. I also work with Theresa to develop exhibits throughout the site, and I manage our social media and outreach program.