Crossroads NHA Finds a Unique Way to Reach New Audiences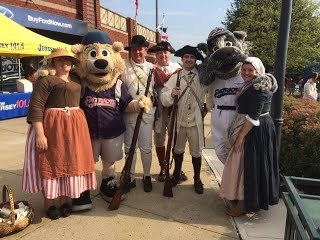 On July 12th, Crossroads of the American Revolution NHA teamed up with the Somerset Patriots baseball team for the Atlantic League of Professional Baseball's 2017 All-Star Game at TD Bank Ballpark in Bridgewater, NJ.
This unique partnership put a spotlight on Crossroads' heritage area partners, bringing the American Revolution to more than 8,000 baseball fans hailing from a total of six states.
Highlights from the night included General George Washington throwing out the first pitch, an encampment featuring over 45 reenactors, both on foot and horseback, along with colonial ice cream making, mock hearth cooking, spinning and weaving, and an 18th century medical tent, all accompanied by periodic music. Exhibit tables set up throughout the ballpark concourse put the heritage partners on full display and featured colonial games and interactive activities for kids. The night culminated in the firing of a Revolutionary War cannon for the fireworks' grand finale.
Find the original story on the National Heritage Areas Blog.
To learn more, visit Crossroads of the American Revolutions NHA, and be sure to check out the complete photo gallery from the event.
Last updated: January 10, 2018