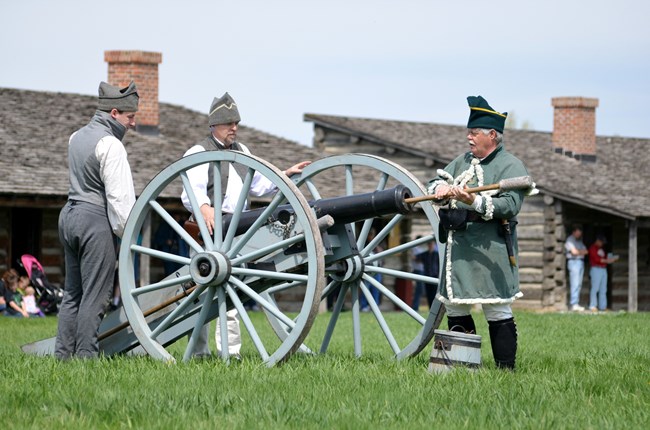 Here at the headquarters of the Lewis and Clark National Historic Trail we're sometimes asked where in Council Bluffs (our Iowa neighbor directly across the Missouri River) did the Corps of Discovery meet or "council" with the Native people of the area? Guests are surprised to learn that the council location was actually on the Nebraska side of the river, about 20 miles north of Omaha near Fort Calhoun.
In the area believed to be the council site, you'll now find a sculpture commemorating the Captains' first meeting with the Oto and Missouri tribes, along with a recreated Fort Atkinson of the 1820s. Fort Atkinson was the first U.S. military post west of the Missouri, built on the recommendation of Captains Lewis and Clark. With as many as 1,200 soldiers, it was important to the early fur trade, river traffic and Indian relations, and functioned from 1820 to 1827.
The Harold W. Andersen Visitor Center displays the history of the fort and contains many interesting artifacts. Much of the historic outpost has been recreated with living history interpretation scheduled during various weekends throughout the summer. For more information, go to:
https://www.nps.gov/places/fort-atkinson.htm
or
http://outdoornebraska.gov/fortatkinson/
.
Read more about the First Council on the Otoe-Missouria Tribe website:
http://www.omtribe.org/who-we-are-history-lewis-and-clark
Last updated: June 20, 2018