Cosmetic and Hygiene Bottles in the Fort Vancouver National Historic Site Museum Collection
By Meagan Huff, Assistant Curator

Just as it is today, personal hygiene was important in 19th-century Vancouver, Washington. In another parallel to contemporary life, cosmetic manufacturers competed against each other and used a variety of tactics to market their wares. However, unlike today, 19th-century cosmetics, as well as food and dugs, were not regulated by the government. In the absence of regulation, cosmetic manufacturers were able to make spurious claims about the effectiveness of their products and their ingredients. In 1891, holistic medicine advocate and inventor of corn flakes John Harvey Kellogg wrote in The Household Monitor of Health, "The anxiety of devotees of fashion to add to their natural complexion charms which nature has denied them, has given rise to an enormous business in the manufacture of cosmetics, the most of which are not only useless and harmful but positively dangerous."

These cosmetic bottles were uncovered by archaeologist at Fort Vancouver National Historic Site, and illustrate the presence of these kinds of products in the lives of the soldiers, officers, and families living at Vancouver Barracks. All of these bottles were recovered in the areas to the west of the reconstructed Fort Vancouver. This area was once the site of the Hudson's Bay Company's employee Village, but after the decline of the Company and the arrival of the U.S. Army in 1849, buildings in the Village were rented to the Army before they were ultimately destroyed to make way for new use of the land, including the construction of the Quartermaster's Depot.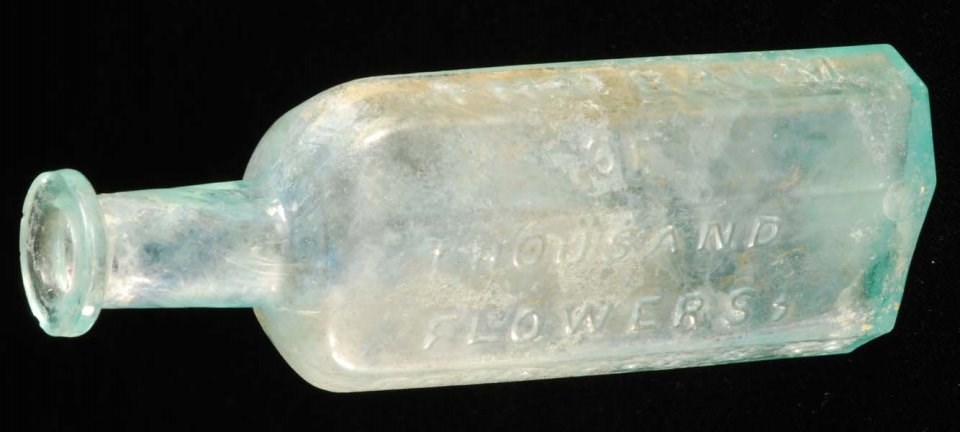 Balm of a Thousand Flowers
FOVA 19020

Like many unregulated 19th century drugs and cosmetics, Balm of a Thousand Flowers was marketed as a multipurpose concoction. Period advertisements suggeted that it could cure one's tan, pimples, and freckles, and could also be used as a shaving cream, tooth cleaner, and stain remover. This bottle dates between 1850 and 1870. It was discovered in a privy that was located in the northernmost room of the Quartermaster's Ranch at Vancouver Barracks.

Lyon's Kathairon For the Hair
FOVA 19021

Lyon's Kathairon For the Hair was first produced in 1850. Advertised as a cure for baldness, grey hair, dandruff, and headaches, Lyon's could also be used as a hair dressing, or styling product. Kellogg included Lyon's on a list of toxic hair products, and listed its ingredients as castor oil, cantharides, oil bergamot, ammonia, and alcohol. This bottle was discovered in the same privy as the Balm of a Thousand Flowers bottle seen above, and likely dates between 1855 and 1870.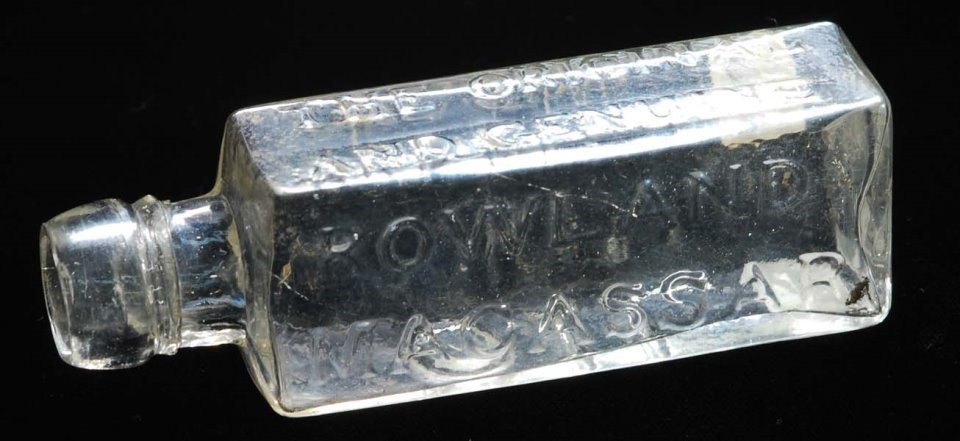 Rowland's Macassar Oil
FOVA 18796

Rowland's Macassar Oil was an exceptionally popular hair styling product throughout the 19th century. First invented in 1793 by Alexander Rowland, Macassar Oil replaced bear's grease, which had previously been used for the same purpose. In 1814, Alexander Rowland published A Practical and Philosophical Treatise on the Human Hair, in which he wrote that Macassar Oil is "composed of vegetable ingredients produced from an exotic plantation, appertaining to the island of Macassar." Macassar Oil was so popular that "antimacassars," small cloths placed over the backs of chairs, were invented to prevent the soiling of furniture from greasy hairdos.

This bottle was found to the west of the fort, at the northern end of a pond used by the Army as a trash dumping site, and dates between 1842 and 1853.

Florida Water
FOVA 18876

Florida Water was a popular unisex 19th century eau de cologne introduced in 1808 by manufacturer Murray and Lanman. The formula for Florida Water included oils of bergamot, lemon, lavender, cloves, and cinnamon. A 1902 article in the American Druggist and Pharmaceutical Record described Florida Water as "essentially American," "the favorite toilet perfume of both American continents." This bottle, which dates between 1850 and 1880, was excavated from the area where the Quartermaster's Ranch once stood.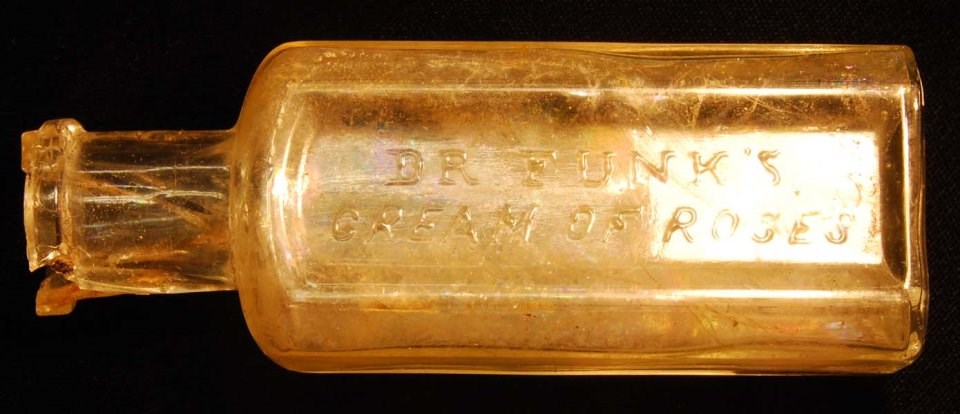 Dr. Funk's Cream of Roses
FOVA 19024

Kellogg also labeled Dr. Funk's Cream of Roses as a harmful cosmetic, and lists its ingredients as gum tragacanth, water, glycerine, and extract of white roses. This bottle dates between 1850 and 1900.
Last updated: November 22, 2017