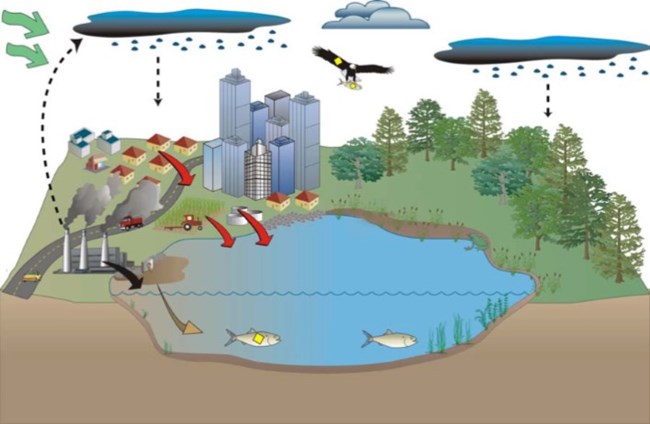 The land, water, and air of many national parks are affected by pollutants that are transported over long distances in the atmosphere (e.g., mercury), as well as contamination from sources closer to their borders: waste water treatment discharges, agricultural run-off, and mineral exploration and extraction.
Since 2006 we have been monitoring a number of pollutants that are persistent in the environment and bioaccumulate up the food chain by checking pollutant levels in the blood and feathers of nestling bald eagles. In 2013 we began collecting water samples from five locations in the Mississippi National River and Recreation Area (MISS). Samples are tested for over 260 different pollutants that are not necessarily persistent or do not bioaccumulate but have the potential to be toxic at high enough levels. Some of the different classes of pollutants include pesticides, pharmaceuticals, personal care products, and waste water indicators. In 2014, we added seven sites at Apostle Islands National Lakeshore and 21 sites on the East Arm of the Little Calumet River at Indiana Dunes National Lakeshore. Samples from those sites are being analyzed.
The purpose of this study is to develop baseline information about the occurrence of over 260 different contaminants in and near selected Great Lakes Network parks. This is a collaborative project with the U.S. Environmental Protection Agency, National Park Service (NPS) Water Resources Division, and six other NPS Inventory and Monitoring Networks.