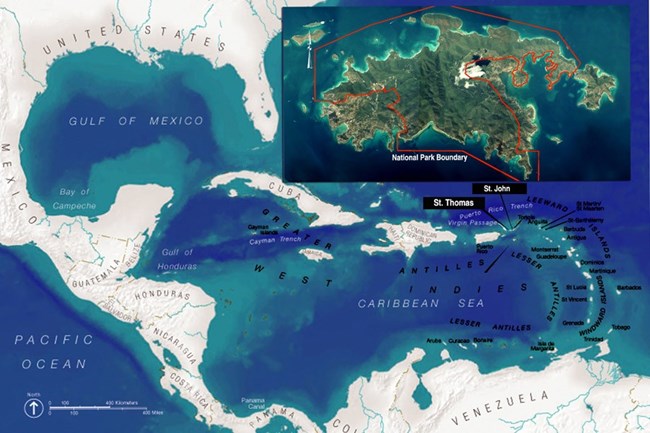 In many places in the world, little is known about the actual interactions between indigenous populations, Europeans, and Africans during the early period of European expansion, despite its importance to global history. The U.S. Virgin Island of St. John is no exception. The 20 square mile island was colonized in 1718 by Denmark, who was a relative latecomer to the Caribbean, and who was motivated by economic competition with Sweden. The Danish government sent out settlers, in defiance of both British and Spanish imperial claims to the island as early as 1672. The settlers found "only a few Indians" (Dookhan 1994:20) on the island. By the time of formal colonization, 18th century St. John was completely deserted of all indigenous inhabitants. Who were the indigenous inhabitants that were encountered at the time of European contact, and what became of them? How did the Danish colonists adapt to new social, economic, and environmental conditions?
The Virgin Island NP Archeological Program has recently undertaken research to identify sites that date to European contact and colonization. Information from excavations at these sites will be used to explore relations between Taino and Island-Carib Indians, Europeans, and Africans during this time period. The goal is to better understand social relations during this tempestuous period of Caribbean proto-history.


Taino and Island Carib Indians
Historical Background
Archeological research has confirmed the presence of Taino occupation throughout the Virgin Islands (Righter, Wild and Lundberg 2004). Excavations on St. John identified occupations dating to 880 BC to AD 1492 with a temporal development that mirrors Taino social progression in Puerto Rico over the last 500 years of occupation (Wild 1999). On nearby St. Croix, Taino influence from Puerto Rico was first identified by Hatt (1932, 1941), who excavated a Classic Taino ball court site at Salt River Bay (Hatt 1924; Morse 2004).

However, early historic records provide evidence that Island-Caribs were also in the Virgin Islands when Columbus arrived. Columbus documented that Island-Caribs raided Taino territory and described rescuing two women on Guadeloupe Island that were captured and taken from their Taino village on Puerto Rico, over 600 miles away. On his second voyage, in 1493, Columbus discovered the Virgin Islands and had his first hostile encounter in the New World on St. Croix.
Another Italian on the Columbus' expedition, Michele de Cuneo, called the natives of St. Criox "camballi;" the Spanish expedition members called them, "canabales" (Cissel 1992). All terms originate from the ship's Taino translator's word for man eaters or cannibals (Allaire 1997). Soon, the Spanish "canabales" transformed to "caribal" that was quickly shortened to Carib (Rouse 1992:22-23). Applying such a term to local populations, whether true or not, was beneficial to the Spanish crown, as it became a rationale for conquistadors to exterminate and enslave these indigenous people.
In addition to this documentary evidence for Island-Carib Indian habitation, the archeological record continues to produce evidence of Taino occupation in the Virgin Islands. Rouse argues that hostilities towards Columbus's ships can be interpreted as evidence of Taino presence as well. The Taino bordering the Island-Caribs would have naturally been more hostile than the Taino that Columbus encountered on Hispaniola and Puerto Rico. Thus, Taino in the Virgin Islands would have been predisposed to an aggressive attack on Columbus considering they were constantly contending with a hostile neighbor (Rouse 1992:19).
Native Americans were the first people to be displaced by the Spanish. Taino from Puerto Rico and the Island-Carib banded together in 1509 to assault the Spanish in Puerto Rico (Figueredo 1978). Consequently, in 1511, the crown issued a Real Cedula that Caribs everywhere could be exterminated (Cissel 1992). Almost immediately, St. Croix, to the south of St. John, was depopulated and survivors from the islands, along with escaping Taino from Puerto Rico, carried on a fight against the Spanish from the northern Virgin Islands. In 1514, the Native Americans were badly defeated and by 1518 European diseases had destroyed their ability to resist Spanish domination. After 1519, the Virgin Islands may have remained depopulated for a short period.
Within Virgin Islands NP, several sites probably associated with Native Americans displaced by the Spanish in 1509 to 1519 have been located. These late period sites, that have a short occupation layer, have recently been located on the island's south shore, which would have been hidden from ships on the more commonly-used routes between the islands.