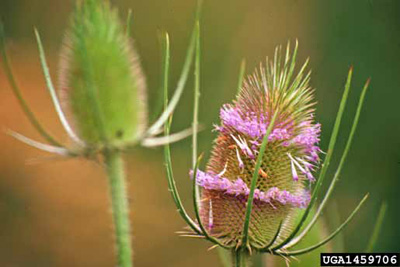 Biennial

Spends at least the first year after germination as a basal rosette, then grows a two- to eight-foot flowering stem.

Stems are prickly and branch near the top.

Basal rosette leaves are puckered with scalloped edges. Stem leaves appear similar, but they are smaller and opposite, and their bases fuse to form a cup around the stem.

Flowers are very small and pack into dense, coneshaped heads. They are lavender in color.

After flowering, the plant becomes woody and persists through the following winter.