Columbia River Area Petroglyphs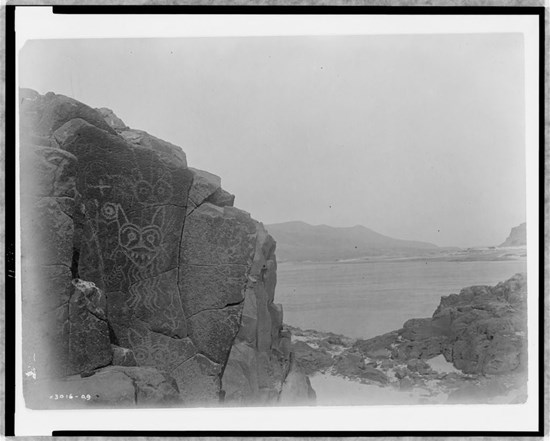 For thousands of years, Native peoples have lived continuously along the banks of the Columbia River. Generations of inhabitants left behind a legacy of artwork in the form of petroglyphs and pictographs.
When the Corps of Discovery passed down the Columbia, the area between today's Hood River, Oregon and Pasco, Washington attracted large numbers of Native people from around the West who came to fish, socialize, and trade. Along this section of the Columbia, more than 90 rock-art sites have been found by archaeologists; more have been found along the middle and lower Deschutes River, the Yakima River, and the John Day River.
While many art sites were covered when the dams on the Columbia were built, a number of rock art have been saved and reassembled at Columbia Hills State Park in Washington, about 10 miles northeast of The Dalles, Oregon. For centuries, the area of the park was the site of a tribal village. The Corps of Discovery camped in the area and described the wooden houses of the village.
Last updated: April 5, 2019