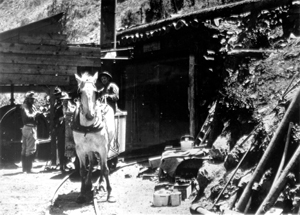 The longest irrigation tunnel in the world when it was dedicated in 1909, Colorado's GunnisonTunnel was an engineering marvel. The 5.8-mile tunnel cut right through the sheer cliffs of the famed Black Canyon, taking water from the Gunnison River and funneling it to the semiarid Uncompahgre Valley to the west. 

It was none other than President William Howard Taft, vacationing in the West, who dedicated the tunnel in September of 1909. What a grand day it was for the little town of Montrose, which welcomed the president with a parade and a two-story-high memorial arch stretching across Main Street. No doubt the president was impressed, for the Gunnison Tunnel was built, as he put it, in the "incomparable valley with the unpronounceable name." Uncompahgre (Un-come-PAH-gray) is a Ute Indian word meaning "hot water spring," while Taft's "incomparable valley" was the raw beauty of a Colorado landscape framed by plateau and the towering San Juan Mountains.

Flowing through the valley's heart is the Uncompahgre River, long utilized by the Ute Indians until a mining boom in the 1870s and a tide of American settlers led to their removal from western Colorado. The new settlers, as had the Utes, looked to the Uncompahgre for sustenance; in the arid West, water was nearly as good as gold. Settlers dug canals and formed ditch companies, believing that the river with the unpronounceable name contained enough water to irrigate 175,000 acres. But the Uncompahgre proved unreliable. By 1890, with fewer than 30,000 acres cultivated, water shortage spurred new schemes for irrigating the valley. 

Legend has it that a local farmer and one-time miner, Frank Lauzon, had a dream in which he came up with an idea: dig a tunnel from the more substantial Gunnison River, which roared in the Black Canyon beyond Vernal Mesa, and divert water to the Uncompahgre Valley. In 1900, local rancher John Pelton set out with a party of four men to run a line of elevation down the famed Black Canyon of the Gunnison River and determine whether a tunnel was feasible. The men put their two, heavy wooden boats into the Gunnison, only to crash one of them against the rocks, sending splinters and supplies downstream. Though their mission was a failure, it generated interest in the tunnel and, the next year, Abraham Lincoln Fellows of the U.S. Geological Survey and William Torrence of the Montrose Electric Light and Power Company set out with rubber air mattresses and waterproof bags. They emerged from the precipitous gorge nine days later with their lives as well as photographs and locations of the best sites to tunnel and build a diversion dam.