By Aviation: From Sand Dunes to Sonic Booms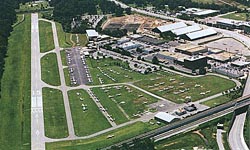 Many events in the history of aviation, including countless record-breaking flights and important developments in aerial technology, took place at the College Park Airport in Maryland. The facility began as the training site for the first military pilots in the U. S. Army. On August 1, 1907, the Army's Chief Signal Officer established an Aeronautical Division in his office. He also contracted with the Wright brothers to build a flying machine, which was delivered to Fort Myer, Virginia, in August 1908. The contract required flights to demonstrate performance and flying training for two Army officers. Orville Wright circled Fort Myer's parade ground in Signal Corps Airplane No. 1, the first military airplane in the world, but he was seriously injured when the plane crashed. Delivery of the airplane and training of the Army pilots had to be postponed until 1909. By that time, the Signal Corps has leased a field in College Park, selected by Lt. Frank Lahm based on observations during a balloon flight, and built a small hangar for the airplane. On October 8, 1909, Wilbur Wright began flying training for Lt. Lahm and 2nd Lt. Frederic E. Humphreys. Lt. Benjamin Foulois reported for training later in October. Wilbur made 55 flights at College Park, including his last record-setting flight, 46 miles per hour over a 500 meter course. His last flight on November 2 was the last time he ever flew in public and also one of his last flights as a pilot.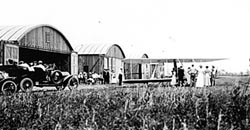 Continuing successful flights at College Park proved to be newsworthy and captured the attention of the Nation. Notable flights during the facility's formative years include the first woman in America to fly as a passenger in an aircraft, Mrs. Ralph H. Van Deman, on October 27, 1909. A nine-minute flight on November 3, 1909, enabled the Navy to enter aviation history when Lt. George C. Sweet, USN, became the first Naval officer to fly. Flying at College Park was suspended on November 5, 1909, when the Army's only aircraft was damaged during landing. Congress made its first appropriation for Army aeronautics in March 1911, $125,000 for the 1912 fiscal year. Some of these funds were used immediately to buy five more airplanes and to establish the Army's first real flying school at the former training field in College Park. The new planes arrived at College Park during the summer of 1911, and this site became the Signal Corps Aviation School and the center of Army aviation until the end of the year. In addition to flying training, Army pilots also conducted experiments in radiotelegraphy, photography, automatic weapons firing, signaling systems, and bombing devices. In late November, the Army airmen and airplanes relocated to Augusta, Georgia, for the winter. Although they returned to College Park in April 1912, they relocated again in November for the winter to North Island, San Diego, California, and never returned. The Signal Corps' lease on the property expired in June 1913.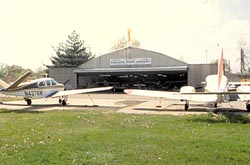 From 1912 to 1917 the Washington Aeroplane Company maintained facilities at College Park and there built its Columbia Biplane. On August 12, 1918, the College Park field became the Washington terminus for the first U.S. Post Office commercial airmail service. Emile and Henry Berliner, credited with inventing the first helicopter possessing maneuvering capabilities, arrived at College Park in 1920 and began testing their helicopter. The site at College Park has witnessed such tests as the first bomb sight developed for use in an airplane as well as the first aerial machine gun. On this site Americans took experimented with wireless radio communications, made the first reported nighttime landing with the aid of acetylene lamps on the ground and developed the first radio navigational aides for all weather flying. As the world's oldest continually operating airport, the College Park Airport has cemented its place in aviation history.

Visit the National Park Service Travel American Aviation to learn more about Aviation related Historic Sites
Last updated: August 29, 2017