Co-Creating Narratives in Public Spaces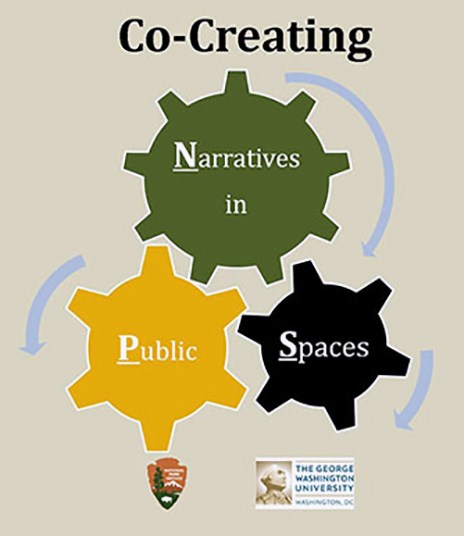 The National Parks are important to all Americans as symbols of the nation, and the National Park Service has a responsibility to ensure that the narratives at these sites are informed by up-to-date scholarship that is inclusive and incorporates issues of race, ethnicity, gender, and power.
What are these resources?
These are a series of recordings that present different aspects of creating interpretive narratives in public spaces. They can be viewed and used individually or together.
The Bison: Going Beyond the Symbol (2 hrs 2 min):
Webinar. The bison is integral to the symbolism of the National Park Service, and yet it also represents a complex history of environmental devastation and Native American subjugation. This Livestream event unpacks the symbol of the bison and explores how new collaborations are working to heal the wounds of the past. Speakers: Glenn Plumb, Chief Wildlife Biologist, Wildlife Conservation Branch, NPS; Reed Robinson, Superintendent, Devils Tower National Monument, NM; Albert LeBeau, Cultural Resources Program Manager, Effigy Mounds National Monument, NM; Jim Stone, Executive Director, Inter Tribal Buffalo Council; and Trudy Ecoffey, Tribal Liaison, Pine Ridge Natural Resources Conservation Service, US Department of Agriculture.
Relevancy, Diversity, and Inclusion: Expanding National Park Service Narratives (1 hr 55 min):
Webinar. The National Park Service has a responsibility to tell the diverse stories that shaped our nation's past and reflect our contemporary society. By co-creating narratives in public spaces, these stories can become inherently more compelling and engaging and will help to broaden the audience for our National Parks. Speakers include Michael Reynolds, NPS Workforce, Relevancy & Inclusion; Julia Washburn, NPS Interpretation, Education, and Volunteers; Steve Pitti, Yale University; Milton Chen, The George Lucas Educational Foundation. Moderated by Laura Schiavo, Museum Studies Program, George Washington University.
Co-Creating Narratives in Public Spaces:
This is a series of recordings documenting the two-day workshop, Co-Creating Narratives in Public Spaces.
Who are these resources for?
Many different groups of people will find these resources useful, particularly those who are committed to defining and communicating the complex and challenging history of the United States. These groups include interpreters, academics, museum professionals, anthropologists, archeologists, public historians, and practitioners of history.
The Take-Aways:
These resources will help you transition from a traditional narrative strategy that centers the interpreter as expert source to developing more dynamic programs that incorporate diverse perspectives and focus on holistic storytelling. The goal is to increase the relevancy, diversity, and inclusion in interpretive programming, in this case, with the NPS as a case study.
Where does this information come from?
Co-Creating Narratives in Public Spaces was a two-day public training organized by the National Park Service and the George Washington University Museum Studies Program on September 17 and 18, 2014.
Last updated: February 15, 2017