Gardens welcome students and pollinators alike at Shaffer Elementary School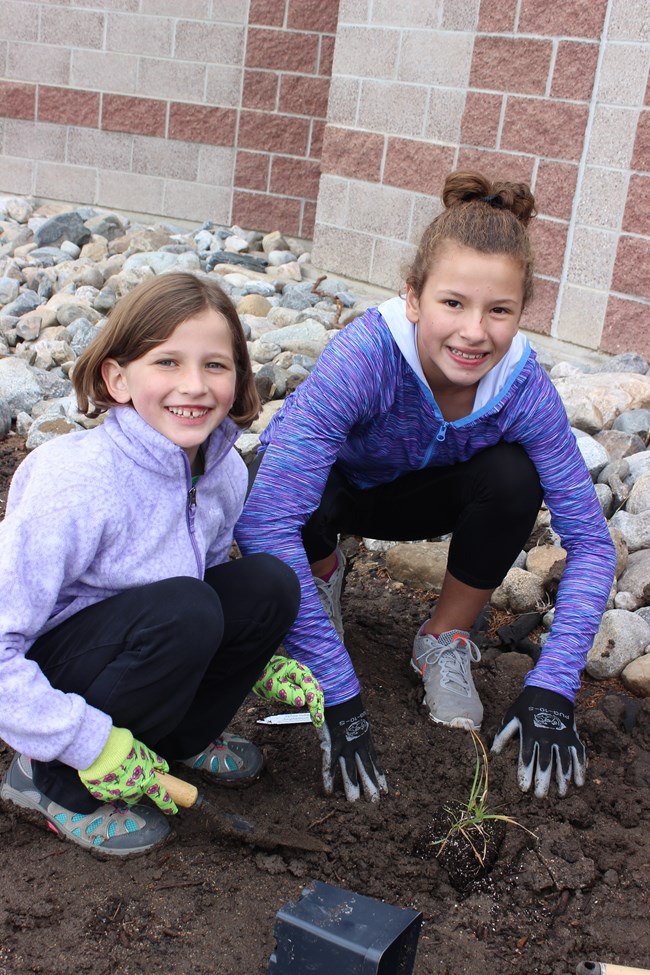 Shaffer Elementary School in Littleton, CO now has new gardens welcoming students and pollinators alike. Two plots outside of the school's entrance used to hold juniper bushes that brought a host of issues, so they were removed this past summer. With an irrigation system still in place, an idea soon blossomed to remove some of the rocks and put plants back in the plots. Shaffer Elementary staff, in partnership with the National Park Service, planned the new gardens to include native plants that are pollinator-friendly. All of the plants came from local nurseries through a program known as Garden in a Box. These boxes are designed by the Center for ReSource Conservation as a simple and low-water use gardening option.

Before the plants could arrive, many steps were taken to prepare the empty plots. Volunteers from the school and local community helped with a "Rock n' Roll" event to move the rocks to the edges of the plots, tilled the existing soil, and participated in another event to add new soil for planting.

Finally on September 23rd, the Shaffer Planting Party was held to help plant the new gardens. Over 40 volunteers including students, parents, teachers, and people from the surrounding Ken Caryl community assisted in planting the gardens in record time! As part of the event, the National Park Service hosted an informational booth about pollinators like bees, butterflies, birds, and bats. Pollinators help sustain ecosystems and pollinate plants that are responsible for bringing us one out of every three bites of food we eat. These new gardens not only provide a new landscape for the entrance to the school, but they will also provide future teaching opportunities for pollinator conservation and connecting students to outdoor classrooms. This project was done in conjunction with a larger gardening initiative that includes indoor tower gardens, a new Shaffer Gardening Club, and future community gardens.
"This was the result of a community vision and our effort to fulfill that vision together. Shaffer's community proved, today, we stand for leadership and the kind of ecological stewardship needed in the 21st century." -Jeremy Brasher, Shaffer Elementary Principal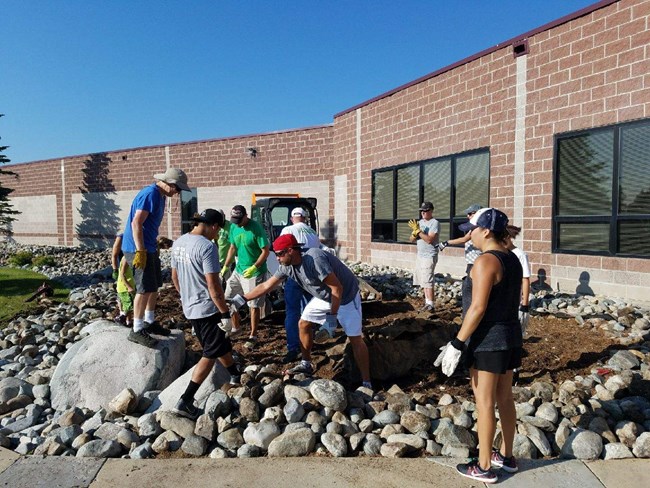 Thank you to the students, parents, and staff at Shaffer Elementary School, the Shaffer Elementary School PTA, and the local Ken Caryl community for investing time and resources into making this project possible!
Last updated: November 7, 2017