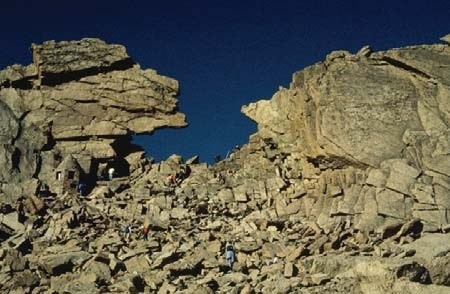 The Question: How many visitors hike on the East
Longs Peak Trail and how many visitors summit via
the Keyhole Route?
Longs Peak is one of the primary scenic attractions of Rocky Mountain National Park. High visitor use along the East Longs Peak trail corridor generates an array of park management issues including public safety concerns, vegetation impacts, trailhead parking, and trail maintenance. Accurate estimates of the visitor use in specifi c areas of the park are useful in managing these issues and appropriately allocating park personnel and fi nancial resources.
Overnight backcountry use can be reliably determined using data from the backcountry camping and bivouac permit system. This study aimed to estimate day use of the park backcountry, which is more difficult to determine.