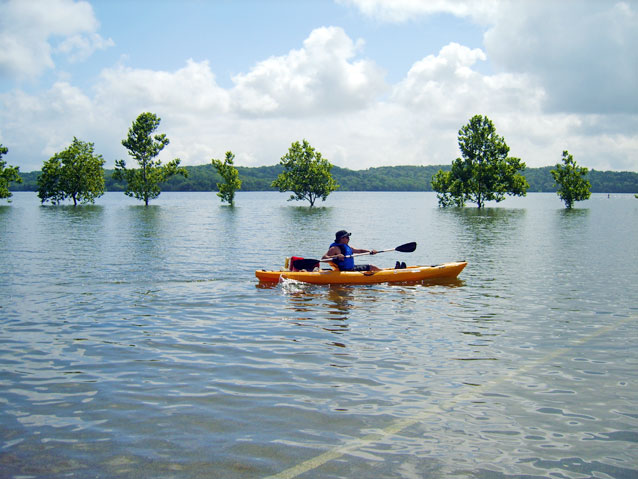 Our planet's tilt and orbit around the sun result in uneven heating of Earth's surface, generating global patterns of climate: temperature, wind, and precipitation. Collectively, these forces are primary drivers of ecosystem pattern and process. Climate in the American Southwest is characterized by mild winters, hot summers, and relatively low (but highly variable) precipitation. The region generally lies on the leeward side of the major North American mountain systems that block moist Pacific Ocean air masses, resulting in an arid and semi-arid "rainshadow" that distinguishes this region from more mesic areas.
Both El Niño Southern Oscillation (ENSO) variations and passages of tropical storm remnants affect interannual climate variations in the region, particularly precipitation. The southern Great Plains and Chihuahuan Desert are also greatly influenced by arctic air masses from the north and humid air masses to the east. The Sonoran Desert is characterized by a unique bimodal precipitation regime with intense localized thunderstorms during the summer monsoon season, and gentle, broad-scale winter rain and snow events. The influence of the summer moonson increases from west to east, such that summer rains are a critical component of Chihuahuan Desert ecosystems. In contrast to the relatively flat Great Plains, both the Chihuahuan and Sonoran deserts exhibit steep topographic gradients that exert powerful influences on local precipitation and microclimate. Examples of this influence include the high-elevation "sky island" systems that support flora and fauna generally only found at much higher latitudes.
Climate monitoring by the National Park Service (NPS) Southern Plains, Sonoran Desert, and Chihuahuan Desert networks supports a comprehensive understanding of ecosystem processes and serves as a key explanatory variable for many of the patterns and trends observed in other monitoring. The potential impacts of climate change on sensitive ecosystems, endemic species, and threatened or endangered species are of particular concern to national parks in these three networks.