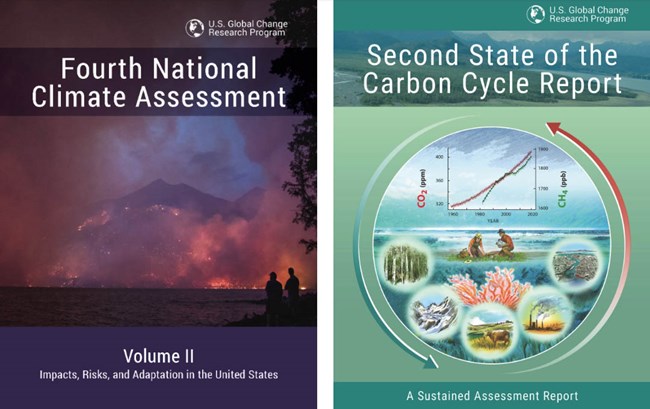 Two New Climate Reports Released
The U.S. Global Change Research Program is recently annonced the release of two major reports, along with accompanying websites:
NCA4 Vol II, Impacts, Risks, and Adaptation in the United States, assesses a range of potential climate change-related impacts, with an aim to help decision makers better identify risks that could be avoided or reduced. The assessment follows Vol I, the Climate Science Special Report(CSSR), which was released in November 2017. Together, these reports meet the requirements of the Global Change Research Act, which mandates a quadrennial assessment of our understanding of global change and its impacts on the United States. NCA4 Vol II can be viewed on its interactive website at nca2018.globalchange.gov.
SOCCR2 represents an important technical contribution to USGCRP's sustained assessment process. The report provides an overview of how human and natural processes are affecting the global and North American carbon cycle, emphasizing advances in the understanding of carbon cycle science and associated human dimensions. Read the report at carbon2018.globalchange.gov.
Conifer Mortality in California: Fire Risk and Dead Tree Management