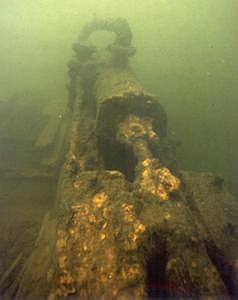 The City of Hawkinsville
is a wooden-hulled paddlewheel steamboat constructed for the Hawkinsville (Georgia) Deepwater Boat Line in 1886. It was sold 14 years later to the Gulf Transportation Company of Tampa, which used the ship for cargo on the Suwannee River.
City of Hawkinsville
was important to the growth of the lumber industry in the region. However, as railroads in the area started gained popularity, steamships became obsolete. In an ironic twist, the
City of Hawkinsville
transported materials for the construction of a railroad bridge across the Suwannee River at Old Town. In 1922, the
City of Hawkinsville'
s captain, Mr. Currie, abandoned the vessel in the middle of the Suwanne Rivier as the steamboat was no longer profitable.
The wreck's port side is only three feet under the surface, while its starboard edge is 20 feet under the surface. The
City of Hawkinsville
is 141 feet long by 35 feet wide. It is in a remarkable state of preservation, and the hull is almost entirely intact. The main propulsion system and the steam piping are still in place. The freshwater environment helped preserve and stabilize the
City of Hawkinsville.

The City of Hawkinsville is located on a ledge in the middle of the Suwannee River on the Dixie County side about 100 yards south of the railroad trestle at Old Town. The City of Hawkinsville lies in a dynamic river environment with limited underwater visibility and requires divers with advanced open water certification. Penetration of the hull is not allowed and diving is not recommended for novices or when there is high water. Mooring buoys have been placed at the wreck site to protect it from anchor damage. The shipwreck has been designated a Florida Underwater Archaeological Preserve, and a laminated underwater guide is available from local dive shops. The preserve is open to the public year round, free of charge.
Florida's Shipwrecks: 300 Years of Maritime History features a Teaching with Historic Places online lesson plan, The Spanish Treasure Fleets of 1715 and 1733: Disasters Strike at Sea. This lesson plan has been produced by the National Park Service's Teaching with Historic Places program, which offers a series of online classroom-ready lesson plans on registered historic places. To learn more, visit the Teaching with Historic Places home page.