Citizen Science Opportunities Associated with Panoramic Lookout Photographs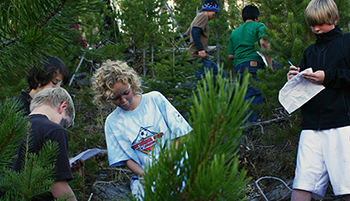 You can go to a national park lookout point and take panoramic lookout photographs just like Lester Moe did. But if you can't make it to a national park, you can do projects that are tied to scientific observation, climate change, invasive species, etc., as close as your own backyard.
Visit a Fire Lookout in Your Local Area
Visit the National Historic Lookout Register to find lookout sites in your area. Select View Lookouts to find lookouts by state and maps. Use the field report form to record observations from your visit that can be uploaded to the National Historic Lookout Register. By submitting a visit report you can share your experience with others.
Gigapan Tutorials
Interested in retaking photographs using Gigapan technology? Learn more by visiting Gigapan's website and view the the tutorials.
Photo Point in My Backyard
Age: Any
Equipment Needed: digital camera, tripod, compass
Set up a location for repeat photography in your backyard by putting in a photo point marker. You can either put a permanent marker, such as a metal stake in the ground, or it can be something already in the yard, such as a sprinkler head or large rock or the like.
Set up your tripod with your camera and use your compass to orient your camera toward a view of interest in a particular direction. Write down the exact direction in a place where you will not lose it so you can go back and repeat the project later.
Take a photograph, and then return on a regular basis--this could be monthly, quarterly (every three months), bi-annually (twice a year), or even yearly--to the same location and take a photograph. Over time you will note how the landscape changes--trees grow, vegetation changes, etc. You will build a great record of your backyard ecosystem. You can even keep to the same time of day to be more accurate with your change over time.
If you want to be even more scientific, you can also record other aspects of your observations, such as temperature and any interesting observations about the time you are taking photographs.
Invasive Plants Citizen Science Program
Glacier National Park has an established program to assist park managers map where invasive plants exist in the backcountry. The data gathered by park staff and citizen scientists throughout Glacier's million acres provide critical assistance in mapping these invasive plants and managing them. Visit Glacier National Park for more information.
Last updated: July 22, 2020