None Of Us Is As Smart As All Of Us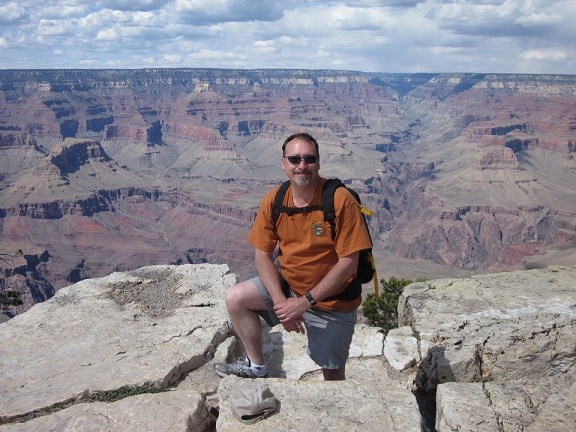 Chris Enyedy
Permitting Technical Specialist
Denver Service Center Planning Division
What experience and education do you have?
My college work started with a bachelor's of arts at the University of California Santa Barbara in physical geography with a strong background in geology. I worked heavily with geographic information system (GIS) technology as it was just an emerging technology in the late 1980s. After graduating in 1989, I worked for a company that provided 911 dispatch software and systems for various cities where it was my job to work on the mapping and database components. However, my real love was with natural resources, so while I enjoyed working with the technology I wanted to apply it to a different field of knowledge. Therefore, I decided to go back to school and get my masters from Washington State University in environmental science and resource planning.
After receiving my Masters, I worked for the U.S. Forest Service for a little bit before going to work for California's Department of Transportation in the Planning Division. At first I worked with GIS and then converted over to a transportation planner. This is where I started to get into permitting and compliance. I worked with environmental regulations such as National Environmental Policy Act and the Clean Water Act. Alas, greener pastures lay ahead and I moved into a job in the private sector as a biologist working specifically with wetlands and related regulatory issues for about nine years before joining the National Park Service in 2009.
What is a typical day like?
Working in the technical branch we focus on three main responsibilities:
Reviewing various projects for compliance
Helping project managers and specialists with the permitting process
Integrating permitting into the Denver Service Center workflows
On average, I conduct approximately a 120 project reviews a year; each project gets reviewed about four to five times. That review process involves a lot of reading and researching to make sure everything is in compliance. The permitting process can be difficult to navigate. It's my job to help the project managers and specialists understand what's involved with moving the process along efficiently, including negotiations with other project partners and the permitting agencies. Finally, I've been working on integrating permitting in to the Denver Service Center's processes in a systematic way so permit requirements are clear and manageable, thereby reduce the risk of delaying a project or making a costly mistake.
What career advice would you give to someone who wants to follow a similar path?
There aren't many other regulatory/permitting only specialist jobs out there that are 100% dedicated to regulatory work. Most jobs are a mixture of compliance and permitting. I would encourage anyone wanting to go into this specialized work to conduct informational interviews with people already in the field. Find out what is involved in the day-to-day effort to make sure it's a good fit for you. The skills most needed to be successful in this job are: communication, negotiation, and being curious about things; because it is necessary to stay up to speed with new laws and interpretations.
In closing, it's my job to help project managers understand the jurisdictions of other agencies on our land and what projects are required to do in order to ensure a timely project delivery. What makes DSC successful is the sum of its parts. I'm glad to be able to part of that success.
Last updated: July 19, 2017