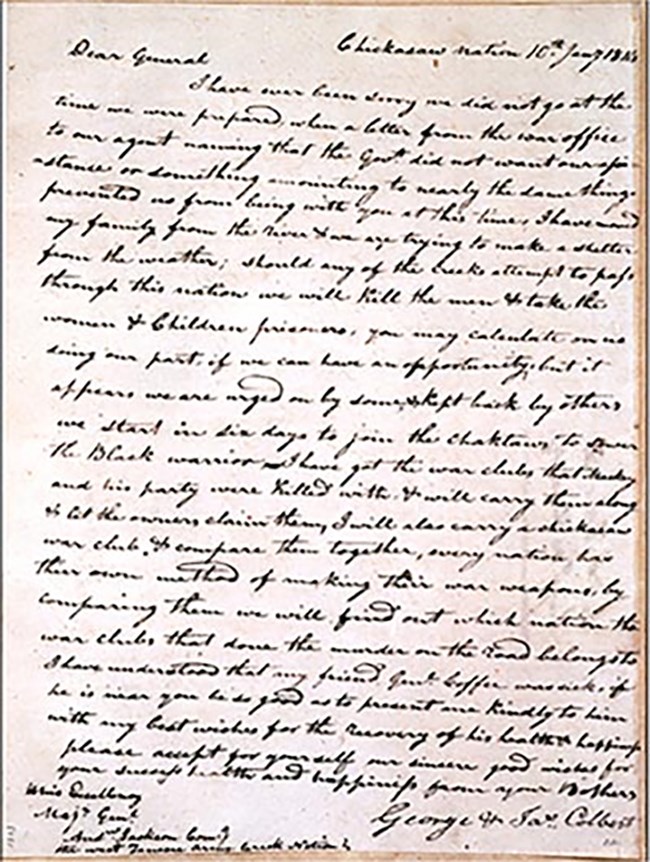 By Brad Lieb, Chickasaw Nation
At the turn of the nineteenth century, the Chickasaw leadership adapted to rapidly changing social, economic, political, and military realities, as they had for centuries before. Despite Tecumseh's urging, the Chickasaw Nation allied itself to the United States of America in the War of 1812, pledging to mutually defend its boundaries and fights its enemies.
The Muscogee Creeks, referred to as "Red Sticks" because of their traditional red war clubs, engaged in an internal civil war in present-day Alabama. Chickasaws joined U.S. troops and militia in suppressing the Red Sticks in late 1813 after the Battle of Fort Mims. This launched the rebellion in the national awareness.
William, George, and James Colbert, Tishominko, James Brown, Coahoma, Tuscumby, Chippowa, and others led Chickasaws to join the U.S. Army's 39th Regiment, mustering in on November 3, 1814, and serving until February 28, 1815. The Chickasaws and Choctaws serving in the 39th under Major Uriah Blue were active in present-day south Alabama and northwestern Florida, participating in the taking of Pensacola from the British and Spanish, and in various search-and-destroy missions against elements of the Red Stick Creek faction. One hundred and thirty-seven Chickasaws, long deceased, but ever remembered, live on in our hearts and minds as Native Patriots, who served in the U.S. 39th Infantry regiment.
Even after this military service for the United States, Andrew Jackson and the U.S. government came for Chickasaw land in 1816 and again in 1818, forcing the Nation to cede much traditional homeland to the U.S. Eventually, this ended in removal to Indian Territory in present-day Oklahoma in the 1930s.