Charles A. Lindbergh, Sr. House
By Aviation: From Sand Dunes to Sonic Booms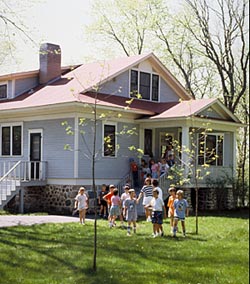 Charles Lindbergh, Jr. is renowned as the aviator who accomplished the first nonstop solo trans-Atlantic flight from New York to Paris in 1927. He became an overnight success after completing this milestone in aviation history. The Lindbergh House in Little Falls, Minnesota, is the sole extant property associated with both Charles Lindbergh, Jr. and Sr. Charles Lindbergh, Sr., who served in the U.S. Congress from 1907 through 1917. A reformer and independent, he was prominent in protest politics and opposed the nation's entry into World War I. The family occupied the house between 1907 and 1920, at which time Lindbergh, Jr. pursued a college education at the University of Wisconsin. However, after three semesters he dropped out of school to pursue his aspirations of flying. He started out barnstorming and not too long after joined the Army Air Service. By 1926 he was flying a mail route between St. Louis and Chicago and in 1927 made the decision to attempt the first trans-Atlantic flight. Raymond Orteig was offering a $25,000 prize to the person who completed this feat. Lindbergh successfully completed the first trans-Atlantic flight, flying from New York and landing in Paris on May 21, 1927, and became an internationally renowned figure as a result.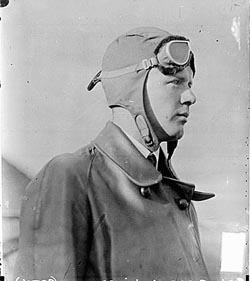 Lindbergh, Sr. purchased approximately 110 acres of land southwest of Little Falls in 1898. The elder Lindbergh constructed a two-and-a-half-story house on the property and moved into the house with his second wife in 1901. Linbergh, Jr., born in Detroit in 1902, was just three years old when the house was destroyed by fire in 1905. With only the original foundation remaining, the Lindberghs rebuilt the house between 1906 and 1907 a plain one-and-a-half-story frame farmhouse. Located on the western bank of the Mississippi River surrounded by wooded landscape, the residence was used primarily as a summer retreat until the advent of the World War I at which time they made the decision to reside in the house year round in order to raise food animals. The Lindbergh residence is covered with weatherboard and contains a gabled hip roof, measures approximately 40 by 50 feet and is authentically painted light grey with white trim. Plain Palladian-type windows are displayed in the west gable end of the front façade. A gable-roofed porch supported by two paneled white-painted wooden columns graces the front portion of the house.

Visit the National Park Service Travel American Aviation to learn more about Aviation related Historic Sites.
Last updated: April 9, 2019