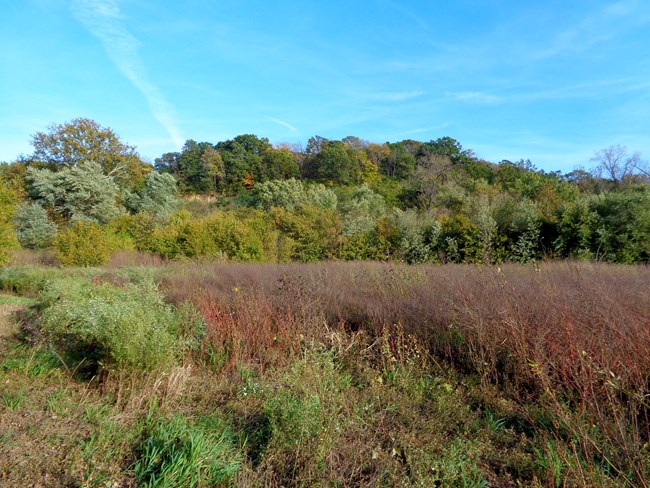 Charbonier Bluff is a High Potential Historic Site on the Lewis and Clark National Historic Trail.

On May 16, 1804, the expedition passed Charbonier Bluff, the highest point on the lower Missouri River. Historically distinguished by an exposed coal seam at the base, French explorers in the early 18th century named it "La Charbonniere" (the charcoal). Clark noted, "passed the Coal hill (Call by the natives Car­bonear) this hill appears to Contain great quantytes of Coal, and also ore of a rich appearance haveing greatly the resemblance of Silver." He also wrote that "from this hill the village of St. Charles may be Seen at 7 miles distance."
Dating to prehistoric times, Native Americans established permanent camps at Charbonier Bluff. A high cliff of sandstone and loess soil, it remained a landmark for river traffic along the lower Missouri into the 19th century. The exposed coal seam provided a source of fuel for river traffic and settlers up until sometime during the 1850s, when changes in the Missouri River course covered it over. From 1886 to 1972, the bluff property was a component of the St. Stanislaus Seminary. The ruins of a Jesuit chapel built over an Ameri­can Indian burial mound along the ridgetop remain extant. In 1973, the St. Louis County Department of Parks acquired a 795-acre tract that included Charbonier Bluff. The site is managed by the Missouri Depart­ment of Conservation.