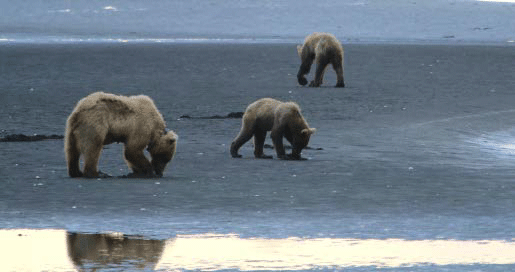 Invertebrates Collected to Monitor Ocean Change
During the Southwest Alaska Network's annual nearshore monitoring trip along the Katmai Coast in July, a variety of mussels and clams were collected, including samples of several species known to be consumed by bears that forage in intertidal areas. Species collected include the Pacific blue or bay mussel (Mytilus trossulus), the Pacific razor clam (Siliqua patula), the butter clam (Saxidomous gigantea), and Mya and Macoma clams.

Clams and mussels were kept alive in small aquarium-like containers and transported to the Alaska SeaLife Center to be measured for information such as length, width, total weight, shell weight, and shell thickness, as well as feeding rates and caloric content. Additional clams and mussels were dissected to obtain gill and mantle tissues, which were preserved. These tissue samples will be used to measure expression of a selected set of genes to evaluate the health of individual bivalves and their response to a variety of physiologic stressors.

Examples of stressors to which the bivalves may be exposed, now or in the coming years, include elevated temperatures, pH changes in marine waters (ocean acidification), pollutants, and pathogens. Overall, the multiple measurements obtained on the clams and mussels will allow us to compare the health of bivalve populations at different sites, assess their responses and sensitivity to environmental stressors, and quantify their energetic value as bear prey.