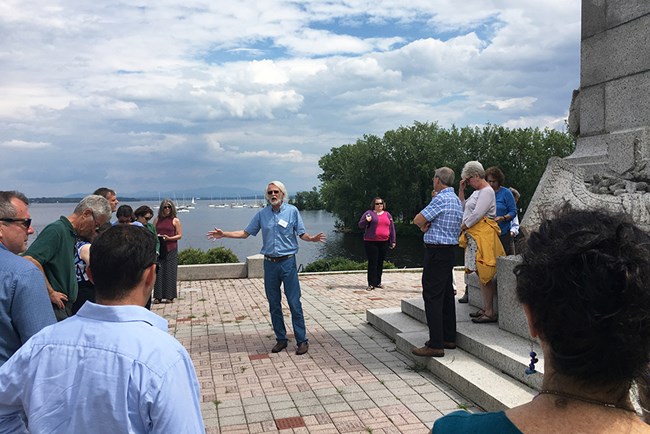 On a balmy July evening in Plattsburgh, NY, City Historian John Krueger begins the story of Lake Champlain during the four tumultuous decades following 1775. Looking out over the reservoir, Krueger paints an image quite different from the placid waters: this was once the scene of half a dozen critical battles of the Revolutionary War and the War of 1812 between the British and Continental armies.
Listening intently are several National Park Service (NPS) managers and program leads, state organizations from New York and Vermont, and members of the Champlain Valley National Heritage Partnership (CVNHP), its Heritage Area Program Advisory Committee (HAPAC), and a handful of local recreation and conservation groups. The CVNHP assembled these partners for a workshop in early July to discuss strategies for improving collaboration between their organizations. "One NPS" aimed to identify overlapping priorities and opportunities to better protect the many cultural, historical and natural resources of the interconnected waterways of Lake Champlain and its eleven surrounding counties.
Having stood witness to countless fundamental moments in history, the lake's historical importance to the establishment of the young American and Canadian nations, to the Iroquois and Algonquin peoples for whom it is an ancestral home, as well as to centuries of traders, merchants and explorers, earned the region a National Heritage Area (NHA) designation in 2006. Emphasizing the term "Partnership" rather than "Area", the CVNHP connects scores of historic sites, museums, and natural areas dedicated to preserving their piece of the regional heritage.
Gathered in a room at the Plattsburgh Elk Lodge, representatives from these partners re-examined their relationships, considered how communication could be improved, and identified potential partnerships.
"This is the first workshop where we've applied the concept of One NPS to a heritage area," said Christina Marts, NPS Liaison to the CVNHP and Deputy Superintendent of Marsh-Billings-Rockefeller National Historical Park (NHP) located nearby in Woodstock, Vermont. "We're learning a lot and hoping to share with other heritage areas and national parks that working with a broad range of communities can provide great benefits to conserving resources."