Champlain Street, Vermont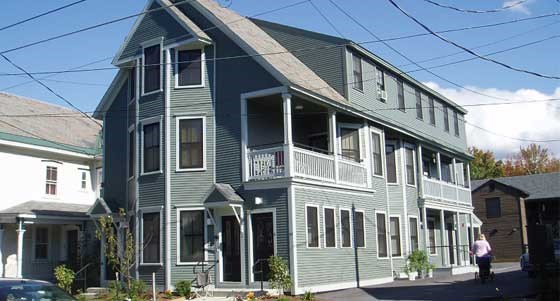 Affordable housing projects make up more than half of the historic rehabilitation projects in Vermont that are certified for federal tax credits. Many of the rehabilitations, like this one at 52-54 North Champlain Street in Burlington, are houses that were historically multi-family and were already serving a low-income population. Built around 1900 in a restrained Queen Anne style, this house on North Champlain Street is one of several buildings in this 19th century working class neighborhood to have recently been rehabilitated using federal tax credits.

Originally 3 units, the house had been altered and expanded. Vinyl and pressure-treated wood distinguished the exterior before the rehabilitation, though the distinctive front bay window and much of the slate roof survived. Typical of many of the projects of Housing Vermont, this $900,000 rehabilitation uncovered and repaired the wood siding, and replaced the vinyl windows with clad wood ones, removed pressure-treated stairs and re-established historic porches. Additional work upgraded interior systems, repaired finishes, and added a solar collector to a rear addition.
Last updated: October 10, 2017