Cemeteries: Maintaining the Graves of Fallen Heroes
20,000 Americans lost their lives in service to their country during the War of 1812. These brave souls are buried in cemeteries from Ohio to Alabama and east to Maryland. The more prominent cemeteries are preserved by local, state, and the federal governments. Smaller private and out-of-the way plots sometimes languish without care. The National Park Service is developing guidelines and outreach for all groups seeking support in preserving the resting places of America's fallen.
Cemetery Preservation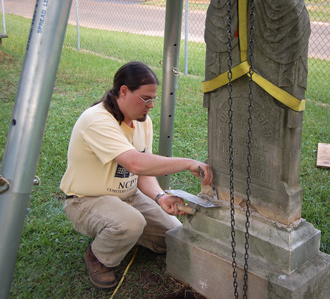 The best preservation decisions are based on first-hand knowledge and there are many organizations dedicated to discovering and distributing best practices for historic cemetery maintenance. One such group is the Park Service's National Center for Preservation Technology and Training. The center has become a national leader in preservation sciences, through research, training, and the provision of grants.  Stopping the Hands of Time: 9 Tips for Cemetery Preservation is a brief document produced by the organization that offers guidelines in the care of cemeteries. 
Learn More
Series: Preserving the War of 1812 for Future Generations
Last updated: August 23, 2017