Youth Climate Change Ambassadors Conduct Citizen Science
In 2010 high school students from San Diego learned about climate change in Glacier National Park as they met with climate change researchers, surveyed mountain goats, and—for some—saw snow for the first time.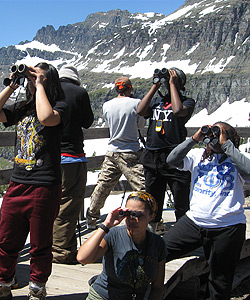 Twenty-two high school students from San Diego claim a vested interest in Glacier National Park, where they spent a week in July of 2010 surveying for mountain goats and assisting with repeat photography for the Crown of the Continent Research Learning Center's (CCRLC) citizen science program. The students, from 10 different inner city San Diego high schools, were all participants in the Commission of Science that Matters program at the Elementary Institute of Science. The students spent elective time after school and on the weekends studying clean energy, climate change, environmental injustice, and comprehensive energy and climate legislation. A train trek from southern California to northwest Montana to study climate change research in Glacier National Park marked the capstone of their year-long science research program.
Throughout their stay in Glacier, the 14- to 17-year-old Climate Change Ambassadors minimized their carbon footprint by hiking or using the park's shuttle system for transportation. They were trained in methods to survey mountain goats, a species considered sensitive to climate change by park management, and learned about local climate change impacts, such as melting glaciers, from a USGS physical scientist. The Youth Ambassadors spent the week collecting data for the park, and many got their first opportunity to see species like mountain goats, black bears, and even hoary marmots. And for some, visiting Glacier allowed them to experience the wet, cold feeling of snow first-hand as they slipped and slid their way to Hidden Lake, on top of Logan Pass.
On their final day, the Climate Change Ambassadors shared what they learned with park staff in a creative multi-media presentation including skits, slide shows with video and sound clips, poetry, rap, and song. The students unanimously agreed that their visit to Glacier was a life-changing experience and made pledges to be supporters for a cleaner, greener environment beginning with educating their friends and family back home and continuing into the future through their chosen careers.
Learn how to get involved with citizen science at Glacier National Park

Last updated: February 3, 2015