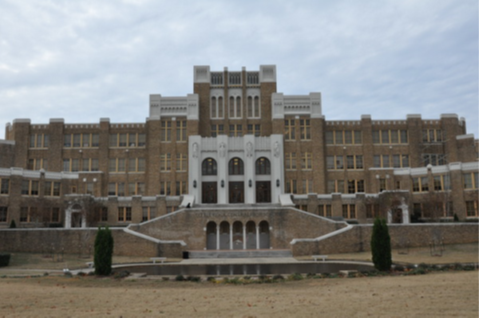 On the morning of September 23, 1957, nine African-American teenagers held the line against an angry mob protesting integration in front of Little Rock's Central High School. As the students met their new classmates inside the school, violence outside escalated and the police removed the nine from the school for their safety. The next day, President Dwight D. Eisenhower ordered the U.S. Army's 101st Airborne Division into Little Rock to escort the nine students into the school. One of the nine later remembered, "After three full days inside Central, I knew that integration is a much bigger word than I thought." This event, broadcast across the nation and world, was the first important test for the implementation of the U.S. Supreme Court's historic Brown v. Board of Education of Topeka decision of 1954.
Little Rock Central High School was added to the National Register of Historic Places in 1977 and designated as a National Historic Landmark (NHL) in 1982. The school, in continual use since its construction in 1929, is today the primary resource represented by the Central High School National Historic Site, designated in 1998.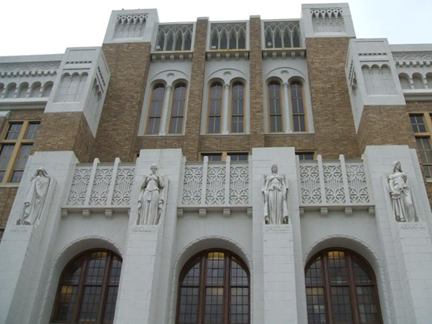 Originally known as Little Rock High School, the building was designed in the Gothic Revival style by associated architects George R. Mann, Eugene John Stern, John Parks Almand, George H. Wittenberg, and Lawson L. Delony. The four-story building with its irregular but generally Y-shaped plan was completed in 1929. The plan can be divided into five distinct sections; a dominant central portion containing an auditorium and a cafeteria on the lowest level; and four classroom wings, two per side, wrapping around a central elliptical reflecting pool in the building's foreground. The school's plan and facade are symmetrical about a central axis that bisects the pool and central core.
The structure is composed of brick bearing walls and steel framing, faced with tan brick. The fenestration consists of horizontal bands of paired windows separated by spandrels and pilasters of varying vertical height. The east, primary facade consists of a landscaped forecourt with the reflecting pool. The forecourt is framed by a fivestory center tower capped by cast stone spandrels with Gothic arch detailing. Pilasters rise above the parapet level and are capped with cast stone. Parapets of the main section are lined with medieval shields and crests of cast stone. Gothic (pointed) arches of cast stone span between broad pilasters at the facade's pinnacle and round arched colonnades of cast stone decorate the next lower level.
Shortly after its completion, the American Institute of Architects declared the building "America's Most Beautiful High School." The architects used a wide variety of cast stone elements on the exterior of Central High as seen in the photos. The façade is highly decorated with a wide variety of cast stone elements. At the time the building was designed, architects were provided with many sources of cast stone architectural elements and often could choose from a variety of manufacturers' catalogues. Rarely did an architect design specific cast stone elements for custom fabrication.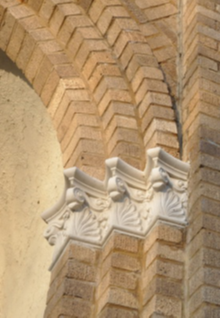 What is Cast Stone?
Throughout history, the practice of using substitute materials has been common, primarily as a cost-saving measure. As far back as the 18th century, architects and builders were experimenting with ways to reduce costs, primarily on stone buildings. Ground or crushed stone or sand was added to paints and then applied to wood to resemble stone. Stucco was often scored to resem-ble cut and finished stone, and even cast iron was detailed to resemble stone. In the 19th century, various concrete mixtures and pigments were molded into architectural shapes with great success.
Early terms such as 'artificial stone' preceded the general use of the term 'cast stone.' The results were remarkable. Plain blocks resembling ashlar and tooled stone, and very intricately detailed elements, were being produced. Coignet Stone, Frear Stone, and Ransome Stone were all names of proprietary systems for pre-cast concrete building units that experienced periods of popularity.
Various cementitious products were tried in American, French, and English venues. Chicagoan George Frear patented the use of natural cement, sand, and shellac in 1868. This material was prone to significant failures, however. In 1869-70, Frenchman Beton Coignet patented the use of portland cement, hydraulic lime, and sand. Also in 1870, John Goodrich purchased Coignet's patent rights and formed the Long Island Coignet Stone Company. Goodrich modified Coignet's original recipe by using high quality natural cement manufactured in Rosendale, New York. This company fabricated the cast stone for one of the earliest extant cast stone structures in the United States, the Cleft Ridge Span in Prospect Park, Brooklyn, New York.
In most early 20th century usage, cast stone was used for exterior window and door surrounds or lintels, copings, parapets and bal-ustrades, banding courses, cornices and friezes, and sculptural ornamentation. On occasion, decorative interiors were also finished with cast stone. Each manufacturer used a wide variation of crushed stone and other materials, together with a cement matrix, to provide the desired effect. Crushed marble would replicate limestone; marble with smelting slag would resemble white granite.
The two basic cast stone production systems were 'dry tamp' and 'wet cast.' The dry tamp process employed a stiff, low slump concrete mix that was pressed and compacted into the molds. The decorative aggregate mix was frequently distributed only on the exterior facing of the cast units, while the cores of the units were common concrete. After a short time, the units were removed from the molds and often cured in steam rooms to assure proper hydration of the cement. The wet cast process, on the other hand, used a much more plastic concrete mix that could be poured and vibrated into the molds. This system used significantly more water in the mix, assuring proper hydration of the cement mix without elaborate curing, but requiring that the units be left in the molds for at least a day. Through this method of fabrication wet cast products distributed their decorative aggregate mix through the entire unit, rather than simply an outer facing.
High quality cast stone was frequently 'cut' or tooled with pneumatic chisels and hammers similar to those used to cut natural stone. In some cases, rows of small masonry blades were used to create shallow parallel grooves similar to lineal chisel marks. The results were often strikingly similar in appearance to natural stone. Machine and hand tooling was expensive, however, and simple molded cut cast stone was sometimes only slightly less costly than similar work in limestone. Significant savings could be achieved over the cost of natural stone when repetitive units of ornate carved trim were required.
---
Originally published in "Exceptional Places" Vol. 5, 2010, a newsletter of the Division of Cultural Resources, Midwest Region. Written by Mark Chavez.