James City County: Carter's Grove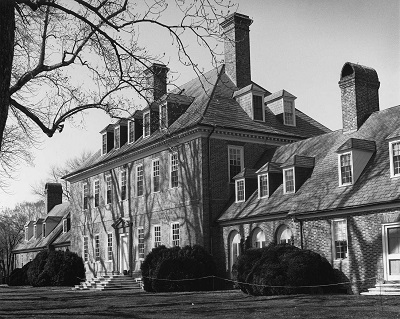 Carter's Grove is one of the best documented colonial Virginia mansions. It was originally built for Carter Burwell, the grandson of Robert "King" Carter and the son of Nathaniel Burwell. According to the account book, the house was constructed by David Minitree, a brick layer;  the woodwork was completed by Richard Bayliss, an English joiner; and the carpentry was completed by James Wheatley.
After Burwell's death, Burwell II inherited the property and sold it in 1790 to move to Clarke County, where he built Carter Hall. Although the property passed through many hands throughout the 1800 and 1900s, in 1927 the house stood at one of the most perfectly preserved plantation houses. In 1927-28 the exterior of the house was radically altered and enlarged in an attempt to give the house a more grandiose appearance. The property was acquired by the Colonial Williamsburg Foundation in the 1960s and opened to the public as a museum. They also reconstructed the slave quarters and reconstructed the extensive garden in the 1970s following archeological investigations. The archeological excavations uncovered the site of Wolstenholme Town, an early 1600s settlement founded by investors of the London Company of Virginia.
In 2008, Carter's Grove was purchased by a private citizen, effectively closing the plantation to the public. There is an interpretive marker on Rte. 60, 3.25 miles southeast of Williamsburg.
Last updated: September 19, 2016