Carlin's Amoco Station, Virginia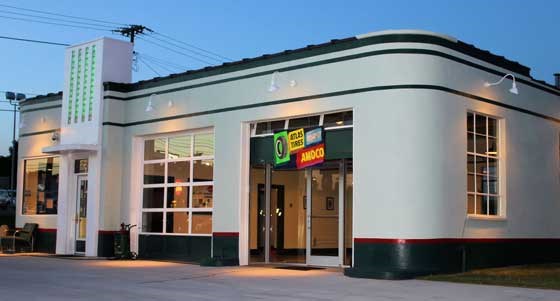 Carlin's Amoco Station in Roanoke, Virginia, was built in 1947 in the Stream-lined Moderne style. It is constructed of concrete block covered in stucco, with smooth lines reminiscent of a 1940s refrigerator. In fact, this style of architecture is sometimes referred to as the "Ice Box Form." This former gas station also emulates the Amoco Corporation's company philosophy, which recruited the top architects and industrial designers of the day to produce buildings that were clean, efficient, and where customers could receive dependable service. The owner of a local car dealership purchased the property, which had been vacant for many years. Recognizing the importance of this intact example of stream-lined construction, the building, as well as Amoco's marketing strategies, was studied extensively to recreate its historic appearance.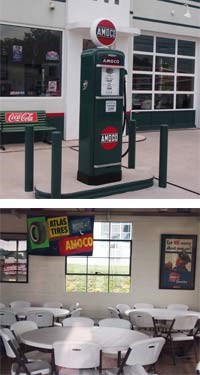 Research involved consulting old maps, Amoco manuals, color charts and historic photographs obtained from other owners and operators of similar gas stations nationwide. Carlin's Amoco was also determined to be historically significant and was listed individually in the National Register of Historic Places; this action made it eligible for both state and federal historic preservation tax credits, which helped finance its rehabilitation. Nothing was spared bringing the building back to life: paint was analyzed to determine the original colors and ghost images were revealed indicating where doors and walls once existed. In addition, neon lighting (that still worked!) was discovered behind the glass block over the main entrance; an original, functional gas pump was placed out front; period "Amoco" signage was installed; authentic hats and uniforms were hung once again from interior coat hooks; a Coca-Cola machine dispensing signature glass bottles was procured; and vintage products were placed "for sale" in glass display cases in the front office. The station is now used for special events and serves as a relic of bygone days when sleek (gas-guzzling) automobiles reigned supreme.
Last updated: September 27, 2017