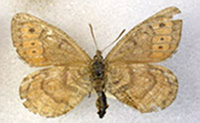 This butterfly was soon determined to be a new subspecies that is known only to Capulin Volcano NM and some nearby areas on the Raton Mesa complex (Union and Colfax counties, New Mexico), but it is not listed as a state or federally threatened or endangered species.
Status and Trends
The Capulin Alberta arctic butterfly (Oeneis alberta capulinensis) is described as small and as having variable coloration, from light to darker grayish-brown. The butterfly's underside is lighter than the upper side, and the female may appear brighter in color than the male. The monument's habitat for the Capulin Alberta arctic butterfly has been identified as Arizona fescue-mountain muhly grassland that is located at the top of the volcano.
Since it was first identified in 1969, it has been observed an additional six times at the monument, with the last observation occurring in 1996. A formal survey was last conducted in 2004 to determine its abundance and distribution. Although none were detected in the monument during the 2004 survey, they were observed at other locations throughout Johnson Mesa, but in lower numbers compared to previous years' surveys.