Captain Edward V. Rickenbacker House
By Aviation: From Sand Dunes to Sonic Booms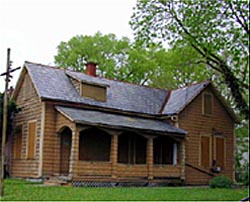 From 1895 to 1922, this was the Columbus, Ohio, home of famed World War I aviator Edward "Eddie" Vernon Rickenbacker. Eddie, a leading race car driver prior to World War I, joined the American Expeditionary Force as a sergeant and staff driver in 1917. He sailed to France the next month with John J. Pershing and his staff. Although overage and not a high school graduate, Rickenbacker, with the assistance of William "Billy" Mitchell, received an assignment to flight school. After 17 days at the French aviation school at Tours, Eddie received his wings and a commission as first lieutenant; however, he was assigned to the Advanced Flight School at Issoudun as an engineering officer, not a pilot. Eventually he was transferred to the 94th Aero Pursuit Squadron, where on April 14, 1918, he took part in the "first combat mission ever ordered by an American commander of an American squadron of American pilots." Rickenbacker became commander of the squadron on September 24. The next day he single-handedly took on seven German planes over the German lines and shot down two of them--an act for which he was belatedly awarded the Congressional Medal of Honor in 1930. In six months he shot down 26 German aircraft--22 airplanes and four balloons.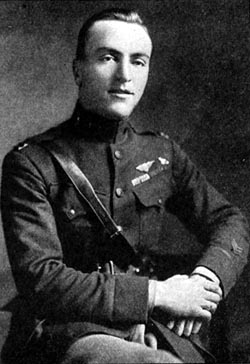 Eddie Rickenbacker returned home after the end of the war as the idol of the American public, the "American Ace of Aces." He refused offers to make movies or endorse products, but he did publish his war memoir entitled Fighting the Flying Circus. He married Adelaide F. Durrant in 1922 and founded the Rickenbacker Motor Company, which went bankrupt in 1927. Eddie then joined General Motors where he worked in both their automobile and aircraft divisions. In 1938 he purchased Eastern Airlines from General Motors, making it the "first airline to operate without a subsidy from the Federal government." During World War II Rickenbacker toured American bases at home and abroad as a special civilian consultant for Secretary of War Henry Stimson. On one of these tours to the South Pacific, Eddie's airplane became lost, ran out of fuel and had to land in the ocean. His book Seven Came Through describes the 24 days he and the crew spent adrift on life rafts before being found. After the war, Rickenbacker returned to Eastern Airlines as Chairman of the Board, a position he held until his retirement in 1963 at age 73. In October 1972 Eddie Rickenbacker suffered a stroke, and he died in Zurich on July 24, 1973.


Visit the National Park Service Travel American Aviation to learn more about Aviation related Historic Sites.
Last updated: April 9, 2019