By Discover our Shared Heritage Travel Itinerary Series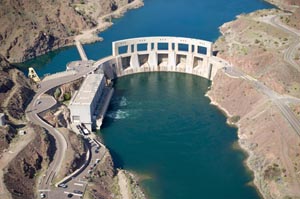 What you see is not what you get at Parker Dam, known as "the deepest dam in the world." Engineers, digging for bedrock on which to build, had to excavate so far beneath the bed of the Colorado River that 73 percent of Parker Dam's 320-foot structural height is not visible. Its reservoir, Lake Havasu, is a different matter. Its deep blue water stretches for 45 miles behind the dam, creating an oasis in the Arizona desert. Gracing the shore at Lake Havasu City is the historic London Bridge, reconstructed brick by brick in 1971 and adding to the city's claim as "Arizona's playground."

The Parker Dam story has not always been so lighthearted, though many benefits have come with the dam, built on the Arizona-California border 155 miles downstream from Hoover Dam. When construction began on Parker Dam in 1934, Arizona Governor Benjamin B. Moeur was so upset that he called out the Arizona National Guard to take possession of the territory around the dam site. He was angry because water stored behind Parker Dam was going to be pumped to cities in fast-growing southern California. Moeur saw it as yet another attempt by California to usurp Arizona's rightful share of Colorado River water. Disagreement over who owned what rights to the Colorado had come to a head a dozen years earlier when plans were announced for the Boulder Canyon Project, including Hoover Dam and the All-American Canal, which funneled Colorado River water to southern California's Imperial and Coachella valleys. Other states in the Colorado watershed--Wyoming, Utah, Colorado, New Mexico, Nevada and Arizona--worried that California would leave them in the dust, literally.

To resolve concerns and divvy up the water, the states entered into the 1922 Colorado River Compact, which divided the seven states into the Upper Basin (Colorado, Wyoming, Utah and New Mexico) and the Lower Basin (Arizona, Nevada and California). Because the Colorado's annual flow was determined (incorrectly) to be 16.4 million acre feet per year, each basin was allotted 7.5 million acre feet, with specific amounts to be decided by the states. (An acre foot is 325,851 gallons, or enough water to cover an acre one-foot deep.) Among the Lower Basin states, the bulk of the water, 4.4 million acre feet, or 58.7 percent of the allotment, went to California, where there was more irrigable land. Arizona received 2.8 million acre feet, or 37.3 percent; and Nevada 4.0 percent, or 300,000 acre feet. Feeling short-changed, Arizona unsuccessfully opposed the Boulder Canyon Project and would not ratify the compact until 1944, when it also took its complaints to court.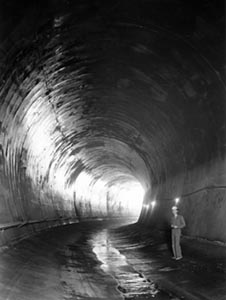 But all that was in the future as a contract was let on August 25, 1934, for another big storage dam on the Colorado River--Parker Dam. As Governor Moeur declared martial law and dispatched the 158th Infantry Regiment to the dam site that November, southern Californians already were building a 242-mile-long aqueduct in anticipation of receiving Colorado River water. The Colorado River Aqueduct, as it was named, was a creation of the Metropolitan Water District of Southern California, a consortium of eleven cities, including Los Angeles, Burbank, Beverly Hills, Pasadena, Anaheim and San Bernardino. The cities joined together to ensure a water supply for their booming communities, which had everything a paradise could want, except adequate water. The aqueduct, financed by a $220 million bond issue, headed east to Parker, Arizona, cutting through desert and mountains as it went, including the 13-mile-long San Jacinto Tunnel, which took six years to build. 

During the early months of 1935, work on Parker Dam stopped, then started, then stopped again as the U.S. Supreme Court looked askance on Governor Moeur and issued a preliminary injunction against Arizona, only to dismiss it two and a half months later. Arizona lost the battle on August 30, 1935, when Congress passed the Rivers and Harbors Bill, which included authorization for Parker Dam. Because Arizona's 158th Infantry Regiment had commandeered a ferryboat to inspect the dam site, punsters made light of the Arizona Army that had become the "Arizona Navy." 

Construction of Parker Dam, a concrete arch structure below the mouth of Bill Williams River, proceeded with half the cost paid by the Metropolitan Water District of Southern California. Frank Crowe, general superintendent at Hoover Dam, assumed the same role at Parker, which was subcontracted to the J. F. Shea Company, Inc., part of the Six Companies consortium that had constructed Hoover. By the fall of 1936, diversion tunnels were complete, turning the river aside so the extensive excavation work could begin. But troubles erupted anew in April 1937 when workers went on strike. Representatives of the American Federation of Labor (AFL) and the Congress of Industrial Organizations (CIO) were on the scene, trying to win the contract to represent the men. When the AFL won, some members of the CIO continued to maintain the picket line; on May 3 they were booted from camp by the contractor, who posted guards at the entrance. 

Parker Dam received its first bucket of concrete that July of 1937 and, one year later, the last bucket was poured. On October 16, 1938, Lake Havasu, Mojave for "blue water," began to fill. On the lake shore, about two miles upstream from the dam, the W. P. Whitsett Intake Pumping Plant sent water into the Colorado River Aqueduct, as it continues to do. Parker Dam's four-generator powerplant, which went into operation in 1942, reserves about half of the hydropower it generates to pump water along the aqueduct, which terminates at Lake Mathews near Riverside, California.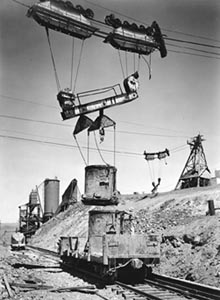 The powerplant's four, 22-foot diameter pipes, called penstocks, each can carry more than 41,000 gallons of water per second to turn the generators, which create the electric power that is sent over transmission lines for miles around. A system that interconnects Parker Dam with Hoover Dam and Davis Dam (completed upstream from Parker Dam in 1950) distributes electricity to Henderson, Nevada, on the north; Blythe, California, on the west; Yuma, Arizona, on the south; and Prescott, Phoenix, Tucson, and Cochise, Arizona, on the east. Along with a system of other dams and transmission facilities, known as the Colorado River Storage Project, 2,800 miles of high-voltage transmission lines serve 40 power substations managed from an office in Phoenix. The generating capacity of these Colorado River projects, marketed by the Western Area Power Administration, is enough to provide electric service for a year to more than two million homes. Colorado River hydroelectric energy brings annual revenues of more than $140 million to the U.S. Treasury. 

Parker Dam was dedicated on November 19, 1938--in a ceremony sponsored by Southern California's Metropolitan Water District, which today has grown to a consortium of 26 cities and agencies serving 19 million people. The water district's Colorado River Aqueduct can deliver one billion gallons of Colorado River water to southern California cities every day.                   

In the end, Arizona was not to be denied its share of the Colorado. In 1944, Arizona finally signed the Colorado River Compact, which opened the way for it to receive its 2.8 million cubic feet of the Colorado's flow. But disagreements remained and were not settled until a prolonged court battle, decided by the U.S. Supreme Court in 1963. The decision, which generally favored Arizona, cleared the way for another Bureau of Reclamation project--the Central Arizona Project, which involved another aqueduct from Lake Havasu--this one pumping Colorado River water into Arizona. The backbone of the aqueduct system runs about 336 miles from Lake Havasu to a terminus southwest of Tucson. It was completed in 1993, but work remains to bring water to several Indian distribution systems.
Visit the National Park Service Travel Bureau of Reclamation's Historic Water Projects to learn more about dams and powerplants.
Last updated: January 13, 2017