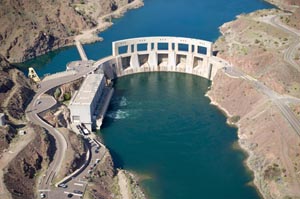 What you see is not what you get at Parker Dam, known as "the deepest dam in the world." Engineers, digging for bedrock on which to build, had to excavate so far beneath the bed of the Colorado River that 73 percent of Parker Dam's 320-foot structural height is not visible. Its reservoir, Lake Havasu, is a different matter. Its deep blue water stretches for 45 miles behind the dam, creating an oasis in the Arizona desert. Gracing the shore at Lake Havasu City is the historic London Bridge, reconstructed brick by brick in 1971 and adding to the city's claim as "Arizona's playground."

The Parker Dam story has not always been so lighthearted, though many benefits have come with the dam, built on the Arizona-California border 155 miles downstream from Hoover Dam. When construction began on Parker Dam in 1934, Arizona Governor Benjamin B. Moeur was so upset that he called out the Arizona National Guard to take possession of the territory around the dam site. He was angry because water stored behind Parker Dam was going to be pumped to cities in fast-growing southern California. Moeur saw it as yet another attempt by California to usurp Arizona's rightful share of Colorado River water. Disagreement over who owned what rights to the Colorado had come to a head a dozen years earlier when plans were announced for the Boulder Canyon Project, including Hoover Dam and the All-American Canal, which funneled Colorado River water to southern California's Imperial and Coachella valleys. Other states in the Colorado watershed--Wyoming, Utah, Colorado, New Mexico, Nevada and Arizona--worried that California would leave them in the dust, literally.

To resolve concerns and divvy up the water, the states entered into the 1922 Colorado River Compact, which divided the seven states into the Upper Basin (Colorado, Wyoming, Utah and New Mexico) and the Lower Basin (Arizona, Nevada and California). Because the Colorado's annual flow was determined (incorrectly) to be 16.4 million acre feet per year, each basin was allotted 7.5 million acre feet, with specific amounts to be decided by the states. (An acre foot is 325,851 gallons, or enough water to cover an acre one-foot deep.) Among the Lower Basin states, the bulk of the water, 4.4 million acre feet, or 58.7 percent of the allotment, went to California, where there was more irrigable land. Arizona received 2.8 million acre feet, or 37.3 percent; and Nevada 4.0 percent, or 300,000 acre feet. Feeling short-changed, Arizona unsuccessfully opposed the Boulder Canyon Project and would not ratify the compact until 1944, when it also took its complaints to court.