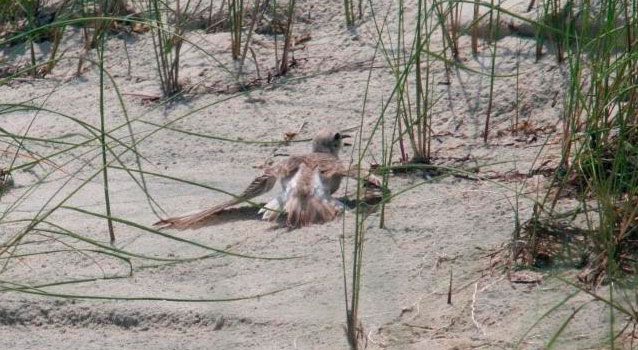 Introduction
The WIPL is a ground-nesting shorebird native to North Carolina.  The preferred nesting habitat is vulnerable to destruction from development, erosion, and weather events (tropical storms, extreme high tides).  Disturbance from recreational activities can cause plovers to abandon their nests leaving their eggs exposed to predation and overheating.  The WIPL is listed as a Species of Special Concern in North Carolina.
Wilson's plovers generally lay two to three eggs in a small, shallow depression or scrape.  The pair can take up to five days from the laying of the first egg to completion of the clutch (Bergstrom 1988).  Upon completion of the clutch, the pair incubates the nest for 23-27 days until hatching.  Both the eggs and chicks are cryptic in coloration which makes them difficult to locate.  Chicks are precocial and follow the adults to locations where they forage for crustaceans, particularly fiddler crabs, and insects found in and on the sand.
ORV Management Plan
On February 15, 2012 the ORV Management Plan was enacted at CAHA.  It was developed from 2007-2012 and was accompanied by a special regulation detailing requirements for ORV use at CAHA.  A copy of the ORV Management Plan and other related documents are available electronically at https://parkplanning.nps.gov/caha.  It includes establishment of an ORV permit system to drive on CAHA beaches.  It also establishes pre-nesting closures and buffer requirements for nesting birds and chicks.  This was the third year the ORV Management Plan guided the management of protected species at CAHA.