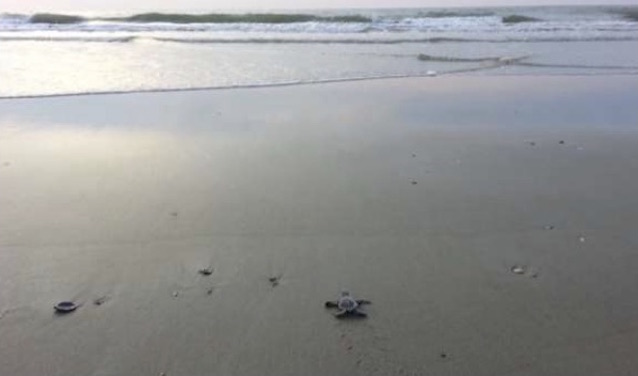 Introduction
Five species of sea turtles can be found in Cape Hatteras National Seashore (CAHA)—the loggerhead (Caretta caretta), green (Chelonia mydas), leatherback (Dermochelys coriacea), hawksbill (Eretmochelys imbricata), and Kemp's ridley (Lepidochelys kempii). In the 1970's, the Leatherback, Kemp's Ridley, and Hawksbill were listed under the Federal Endangered Species Act (ESA) as endangered and the Loggerhead as threatened.  The Green population that nests in the Northwest Atlantic was listed on July 28, 1978, and is designated as threatened.
Non-breeding sea turtles of all five species can be found in the near-shore waters during much of the year (Epperly 1995). Cape Hatteras lies near the extreme northern limit of the nesting range for four of the five sea turtle species, including the Loggerhead, Green, Kemp's Ridley and Leatherback. Hawksbill sea turtles, in the past, were not known to nest at CAHA, but are known to occur here through strandings. This year CAHA documented its first two Hawksbill sea turtle nests through DNA analysis of a single egg taken from each nest. The occasional Kemp's Ridley nest has been documented in North Carolina over the past five years and in 2011 CAHA documented its first Kemp's Ridley nest.
Cape Hatteras National Seashore has been monitoring sea turtle activity since 1987, and standard operating procedures have been developed during this time. This report summarizes the monitoring results for 2015, comparisons to results from previous years, and the resource management activities undertaken for turtles in 2015. Cape Hatteras National Seashore follows management guidelines defined by the North Carolina Wildlife Resources Commission (NCWRC) in the Handbook for Sea Turtle Volunteers in North Carolina, species recovery plans, and the Cape Hatteras National Seashore Off-Road Vehicle Management Plan and Special Regulation (ORVMP).
ORV Management Plan
On February 15, 2012 the ORVMP was enacted at CAHA. It was developed from 2007-2012 and included a special regulation detailing requirements for off- road vehicle (ORV) use at CAHA. A copy of the ORV Management Plan and other related documents are available electronically at https://parkplanning.nps.gov/caha. It includes establishment of an ORV permit system to drive on CAHA beaches. It also establishes survey times, frequency and buffer requirements for sea turtle nests and hatchlings. This was the fourth year the ORV Management Plan guided the management of protected species, including sea turtles, at CAHA.
The National Park Service (NPS) modified wildlife protection buffers established under the Cape Hatteras National Seashore Final ORVMP and Environmental Impact Statement of 2010 (ORV FEIS). This proposed action results from a review of the buffers, as mandated by Section 3057 of the Defense Authorization Act of Fiscal Year 2015, Public Law 113-291 (2014 Act). The 2014 Act directs the NPS "to ensure that the buffers are of the shortest duration and cover the smallest area necessary to protect a species, as determined in accordance with peer-reviewed scientific data." *pulled from https://parkplanning.nps.gov/document.cfm?parkID=358&projectID=56762&documentID=65752
The Record of Decision indicates that CAHA will "conduct a systematic review of data, annual reports, and other information every 5 years, after a major hurricane, or if necessitated by a significant change in protected species status (e.g. listing or de-listing), in order to evaluate the effectiveness of management actions in making progress toward the accomplishment of stated objectives". As part of the Reporting Requirements of the Biological Opinion (BO) for the ORVMP (November 15, 2010), "an annual report detailing the monitoring and survey data collected during the preceding breeding season (as described in alternative F, in addition to the additional information required in the …Terms and Conditions) and summarizing all Piping Plover, Seabeach Amaranth, and sea turtle data must be provided to the Raleigh Field Office by January 31 of each year for review and comment".
In the November 15, 2010 BO, the USFWS determined that the level of anticipated take is not likely to result in jeopardy to the loggerhead, green, or leatherback sea turtle species. Through the actions taken by the resource management staff, CAHA has complied with the reasonable and prudent measures that are necessary and appropriate to minimize the take of sea turtles. Protection was provided to sea turtles that came ashore to nest, incubating nests were monitored and protected, and emerging hatchlings were provided protection from ORVs. Proposed activities and access to nesting sea turtles, incubating turtle nests, and hatching events were timed and conducted to minimize impacts on sea turtles and sea turtle productivity. Resource management staff also responded to stranded sea turtles and coordinated the transport and delivery of live strandings to appropriate rehabilitation facilities. The non-discretionary terms and conditions for sea turtles were also met by providing the USFWS with this annual report. This annual report summarizing monitoring efforts and data collected during the 2015 breeding season and aids in fulfilling the reporting requirements of the November 15, 2010, BO.
Cooperating Agencies
CAHA cooperates with the National Marine Fisheries Service (NMFS), United States Fish and Wildlife Service (USFWS), and NCWRC on sea turtle protection. All nesting activity and stranding reports are reported to the North Carolina Sea Turtle Program Coordinator at NCWRC through the seaturtle.org website. An annual permit is issued to CAHA by NCWRC under the authority of the USFWS for the possession and disposition of stranded marine turtles and relocation of nests.