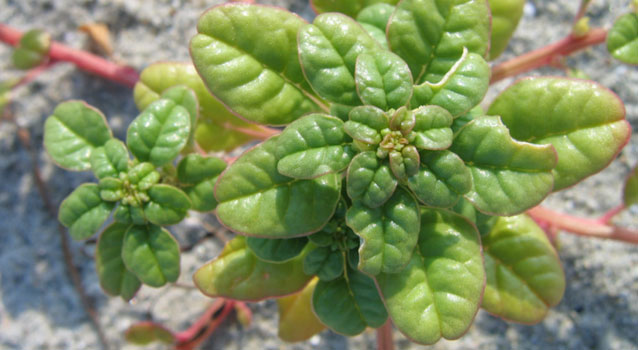 Introduction
Seabeach amaranth (Amaranthus pumilus) is a federally threatened plant species found in barrier island beach environments, where it grows in overwash flats at accreting ends of islands and at the foot of frontal dunes.  The species is intolerant of competition and thus is limited to highly dynamic areas that are marginally conducive to plant growth.  It survives in these habitats as a "fugitive" or "pioneer" species, continually moving around in the landscape to occupy suitable habitat as it becomes available.  Amaranth must recruit annually either from existing seed bank or from seeds dispersed by wind, water, or anthropogenic factors (i.e., dredging, beach nourishment) (Jolls 2004).  Populations can therefore be highly variable from year to year in any given area, but dormant seeds may remain viable for many years.
The natural habit of seabeach amaranth makes it vulnerable to both man-made and natural disturbances.  The primary threat to the species is habitat destruction.  Man-made beach-stabilizing structures (i.e., bulkheads, jetties, continuous barrier dunes) and off-road vehicle and pedestrian traffic on beaches have contributed to major habitat loss (USFWS 1996).  Barrier islands are extremely dynamic in nature and are constantly being shaped by hurricanes and storm events, resulting in the rapid creation and elimination of potential amaranth habitat.  Other threats to amaranth include herbivory by insects and mammals, competition from non-native, invasive plants, and sea level rise.
In 1993, Amaranthus pumilus was listed as federally threatened with extinction under authority of the Endangered Species Act (USFWS 1993).  At the time of its listing, the species had been eliminated from two-thirds of its historic range that extended from Massachusetts to South Carolina (USFWS 1996).  Cape Hatteras National Seashore (CAHA) was once heavily populated with amaranth, hosting three to fifteen thousand individuals per year in the late 1980s.  Seabeach amaranth has since been in decline at CAHA, and was last documented here in 2005.  Since populations can be highly variable, park staff continues to survey for the species annually.