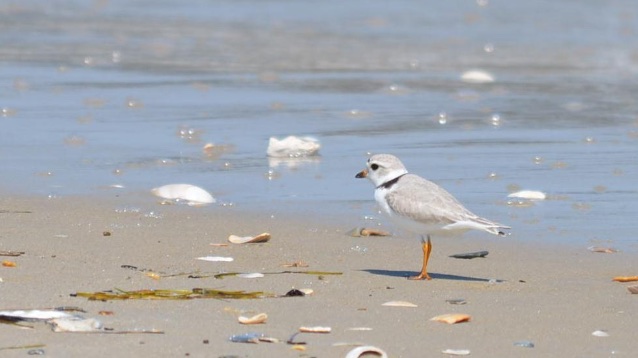 Introduction
Routine monitoring of PIPL at CAHA began in 1985. The Atlantic population was listed as threatened under the Endangered Species Act in 1986. Monitoring focused on locating and protecting breeding territories to aid in determining nest and brood success. This report contains a summary of monitoring results for the 2014 breeding season, comparisons of results from previous years, and the resource management activities undertaken for PIPL in 2014.
On February 15, 2012 the Cape Hatteras National Seashore Off-Road Vehicle Management Plan and Special Regulation (2012, ORVMP) was enacted. It was developed from 2007-2012 and was accompanied by a special regulation detailing requirements for off-road vehicle (ORV) use at CAHA. A copy of the ORV Management Plan and other related documents are available electronically at: https://parkplanning.nps.gov/caha. The ORV Management Plan includes establishment of pre-nesting closures and buffer requirements for nesting birds and chicks as well as the requirement for an ORV permit to drive on CAHA beaches.
The 2014 breeding season was the third season managed under the requirements of the ORVMP.
The Record of Decision indicates that CAHA will "conduct a systematic review of data, annual reports, and other information every 5 years, after a major hurricane, or if necessitated by a significant change in protected species status (e.g. listing or de-listing), in order to evaluate the effectiveness of management actions in making progress toward the accomplishment of stated objectives". As part of the Reporting Requirements of the Biological Opinion (BO) for the Off- road Vehicle Management Plan (November 15, 2010), "an annual report detailing the monitoring and survey data collected during the preceding breeding season (as described in alternative F, in addition to the additional information required in the... Terms and Conditions) and summarizing all piping plover, seabeach amaranth, and sea turtle data must be provided to the Raleigh Field Office by January 31 of each year for review and comment".