The National Park Service (NPS) has supported the sale of American-made products in its concession retail shops for many years. All new concession contracts have specific language encouraging the sale of these items, and concessioner evaluations include a review of concessioner performance against these goals. Federal regulations provide concessioners financial incentives to sell authentic native handicrafts. Bids for retail services often include questions regarding how prospective offerors will promote the sale of these items. The NPS reinforced this position in a policy statement to the field indicating that to contribute to our nation's economy the NPS should continue to encourage the sale of American-made products in concession stores.
National Park Hospitality Association
Our concessioners have responded well to these requests, stocking American-made merchandise, labeling products, and even devoting entire sections to "Made in America" products. Concessioners are also actively working together to help expand offerings. For example, the National Park Hospitality Association (NPHA) established a Retail Operations Task Force to share information and tools among concessioners, such as a collaboratively developed database of American-made vendors.
While concessioners strive to stock American-made merchandise, they face challenges finding American-made products at price points amenable to visitors. In some cases, products that park visitors want are simply no longer manufactured domestically. To overcome these issues, it is common practice for concessioners to purchase products from a wide network of American-owned wholesale suppliers that provide finishing services to personalize park gift items such as:
Embroidery
Silk screen artwork
Imprinting
Painting
Engraving
Etching
Printing
Glazing
Although the point-of-origin for many of these products is foreign, they are finished in the United States and contribute to the U.S. economy.
In 2008, the NPHA conducted a review of concessioner products, which showed that 39% of merchandise sold was made in the United Sates, 31% was finished in the United States, and only 30% was imported. These numbers have only improved as our concessioners continue to meet the challenge of selling and promoting American-made merchandise, while also providing the selection of merchandise our park visitor's desire at a reasonable cost. Some examples of success stories from across the NPS are provided below.
Xanterra Parks & Resorts
In response to visitor comments, Xanterra Parks & Resorts retrofitted a section of the gift shop at Mount Rushmore National Memorial to feature "Made in USA" items. The retrofit included adding a large sign to draw visitors to that area. The photos below show the gift shop before and after the retrofit.

Evenlyn Hill
Fittingly, the concessioner at the Statue of Liberty National Monument, Evelyn Hill, has dedicated areas in their gift shops to "Made in America" gifts, including a small shop in the tent at the base of the Statue of Liberty as well as a larger area in the main gift shop on Liberty Island. Both shops featurethe following in their clearly marked "Made in America" sections:
T-shirts
Figurines
Flags
Coffee mugs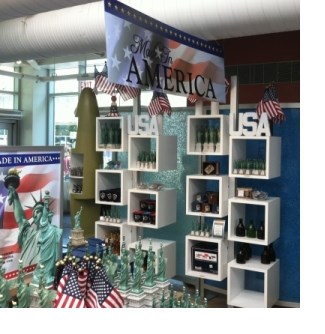 Ortega Family Enterprises
At Death Valley National Park, Ortega Family Enterprises makes American-made products available in the concession facilities in the Stovepipe Wells area. The Nugget Gift Shop offers a large selection of traditional Native American crafts such as jewelry, weavings, and pottery that are handmade by members of local tribes. The shop also carries a variety of souvenir items, many of which are made in the United States.
Forever Resorts
At the gift shop at The Lodge at Bryce Canyon National Park, Forever Resorts showcases handicrafts and art made by local and Native American artists. Forever Resorts has developed long-standing partnerships to buy directly from the artists to ensure that the products are genuine. They also offer other gifts and decorative accessories that are made right in Utah. Informational signage throughout the shop draws attention to local and American-made products and educates customers about Native American handicrafts.
Delaware North Companies Parks & Resorts
Delaware North Companies Parks & Resorts (DNC) is dedicated to selling American-made products in their retail outlets at Shenandoah National Park. In fact, nearly 100 percent of the items sold at the Big Meadows Lodge gift shop are made in the United States. Although they have faced challenges in finding certain souvenirs, management continues to seek out new American vendors for these items. For example, after years of searching, DNC finally found a company that prints postcards in the United States.
Looking for American-made products to sell at your retail outlet?
In addition to the resources available from within the concession community, a variety of online resources are available to consumers and retailers looking for American-made products. American Made Matters offers an extensive listing of American-made product retailers and wholesalers that offer everything from clothing to boats, to home goods and more.
Madeinusa is a website developed by a passionate consumer devoted to American-made products. The website features a large listing of American companies and products manufactured in the United States, and it also includes reviews of products and links to purchase those products via Amazon.com.
Last updated: April 27, 2018