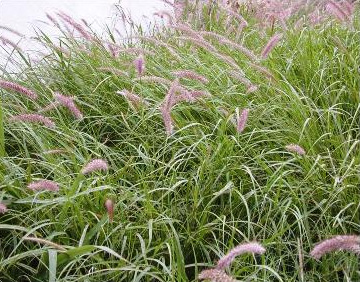 Buffelgrass (Pennisetum ciliare) was introduced to the Southwest for cattle forage and erosion control beginning in the 1940s. Plantings occurred throughout Arizona. It is now spreading rapidly across the Sonoran Desert. This plant poses an immediate threat to the ecosystem. Invasive buffelgrass alters natural ecological processes, competes with and excludes native plants, and alters wildlife habitat. Most importantly, it increases the frequency of wildfires. 
Fires are historically rare in the Sonoran Desert, burning about once every 250 years. The wide spaces between plants make it difficult for fire to spread. Invasive plants, such as buffelgrass, fill in the spaces between native plants, exponentially increasing fire danger. Desert fires can harm habitat and kill saguaros and other natives not adapted to fire. 
Buffelgrass and the ensuing threat of fire are a major concern for Saguaro National Park and other public land management agencies. There are an estimated 2,000 acres of buffelgrass in the park, and it can double every three to seven years. Over time, infestations grow in size and density. Many scientists think that with continued buffelgrass expansion, local extinctions of saguaros and many other native species may occur, changing the Sonoran Desert and wildlife forever.