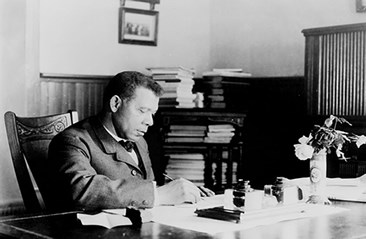 Booker T. Washington was one of the most prominent African American educators and orators of the late 19th and early 20th centuries, rising from slavery to a position of power and influence over the course of his lifetime. After the Civil War, Washington worked tirelessly to help African Americans by promoting his strong beliefs about the benefits of self-help, hard work, and practical education. Booker T. Washington National Monument preserves his birthplace and childhood home and tells the story of the life of this influential American. Washington lived at this farm for the first nine years of his life, from his birth in 1856 until his emancipation in 1865. At this place, he formed his initial impressions about education, race, and labor--impressions that would influence his life, career, and ideas until his death in 1915.
Born April 5, 1856 to an enslaved plantation cook on the Burroughs tobacco farm in Hardy, Virginia, Washington lived in a one room log cabin, which doubled as the plantation kitchen and his family home. In his autobiography, Up From Slavery, Washington remembered the cabin as without glass windows and with a dirt floor where he and his siblings slept. Close to the kitchen cabin, James and Elizabeth Burroughs lived in the "big house" along with several of their 14 children. James Burroughs owned about 10 slaves, about the usual number of slaves on small farms in the region. Everyone was expected to work on the 207 acre farm, even the Burroughs. Washington remembers that his master and sons worked side by side with the slaves, which was necessary to keep the farm running efficiently.
As a very young boy, Washington performed simple chores on the plantation, cleaning the yards, carrying water to men in the fields and corn to the mill to be ground, and when he became strong enough fanning flies from the table in the "big house" at mealtimes. During these early years on the farm, Washington was exposed to school but not permitted to attend, because it was illegal to educate slaves. He carried one of the Burroughs daughter's books to school in Franklin County, Virginia, but was not allowed to enter the schoolhouse because he was a slave. This deepened his desire for education. He once wrote, "I had the feeling that to get into a schoolhouse and study would be about the same as getting into paradise." Carrying his mistress' books to the schoolhouse but not being permitted to learn and fanning flies from his master's meals but not having meals at a table with his own family helped Washington's understand race relations, labor, and education.
Today, stones outline the sites where Washington's family cabin/kitchen and the Burroughs home once stood to provide an understanding of the overall layout of the plantation and its buildings. Visitors can follow "Plantation Trail" through the historic area of the park and view reconstructions of the 19th century farm buildings similar to those that stood on the Burroughs Plantation when Booker T. Washington lived there as a boy. The "Farm Area" has sheep, pigs, horses and chickens to help set the scene of an 1850s tobacco farm. The "Garden Area" allows visitors to learn about the gardening techniques that Burroughs and his slaves likely used.
In April of 1865, after years of farming and gardening alongside their master, Booker T. Washington and all of Burroughs' other slaves listened to the reading of the Emancipation Proclamation in front of the Burroughs home. Free of the system of slavery that had for so long dictated their lives, Washington and his family soon left the plantation and moved to Malden, West Virginia, to join his mother's husband. Here, the young Washington took a job in a salt mine that started at 4:00 a.m. so that he could attend school later in the day.

In 1872 at the age of 16, Washington heard about Hampton Institute, a school General Samuel Armstrong established that focused on agricultural and industrial education to give ex-slaves the skills they needed for economic advancement in the South. Armstrong believed that newly freed slaves did not have the cultural or moral qualities necessary to participate in politics and thus should focus on getting an industrial education for their own economic advancement. This educational philosophy made Hampton Institute acceptable to whites in the South. Washington agreed with Armstrong's educational philosophy and supported its practical application in a society still divided by many racial issues. Washington started the 500 mile journey to Hampton, Virginia aboard a train, and after his tickets ran out, he walked the remaining miles to the Institute.
Washington attended Hampton Institute from 1872 until 1875, and returned to Hampton as an instructor in 1879. In 1881, he founded a secondary school for blacks in Tuskegee, Alabama. Students cleared the land and constructed the original buildings of Tuskegee Institute. At Tuskegee, Washington received recognition as the nation's foremost black educator. Basing the curriculum on his experiences at Hampton, he enforced an educational system of hard work, discipline, and self-help. The practical education students received at Tuskegee prepared students for economic independence by giving them specific trade skills, discipline, and a distinct set of cultural values. He chose this system because it effectively educated African Americans without antagonizing whites.
Washington's famous Atlanta Address at the 1895 Cotton States and International Exposition in Atlanta outlined his philosophy. He spoke of the need for mutual prosperity of black and whites through education while indicating that racial integration was not necessary for such an outcome. The address made Washington nationally famous. Whites immediately identified Washington as the leading spokesperson for African Americans, while some blacks were upset by what appeared to be Washington's acceptance of segregation and inequality. Many well known African American activists, including W.E.B. Dubois, saw Washington's approach as too accommodating to whites. We now know that Washington secretly funded anti-segregationist activities.
Washington obtained funds for his educational system by compromising with white philanthropists. While Washington's accommodationist approach permitted forms of racial inequality, it also allowed him to obtain support to provide essential education and training for many African Americans. His vision of education as essential to freedom began on the Burroughs Plantation and stayed with him throughout his career.

Booker T. Washington National Monument, a unit of the National Park System, is located at 12130 Booker T. Washington Highway, Hardy, VA. Click here for the National Register of Historic Places file: text and photos. The park is open daily from 9:00am to 5:00pm, except Thanksgiving, Christmas, and New Years Day. For more information, visit the National Park Service Booker T. Washington National Monument website or call 540-721-2094.

Booker T. Washington National Monument is associated with the Tuskegee Institute National Historic Site in Alabama and also appears in the National Park Service's Museum Management Program exhibit, entitled, "The Legends of Tuskegee." The following lesson plans & teacher guides are available for download from the Booker T. Washington National Monument website: To Be a Slave, Lifting the Veil, War on the Home Front, Cast Down Your Bucket, and Clash of the Titans.