Branding Lowell exhibit opens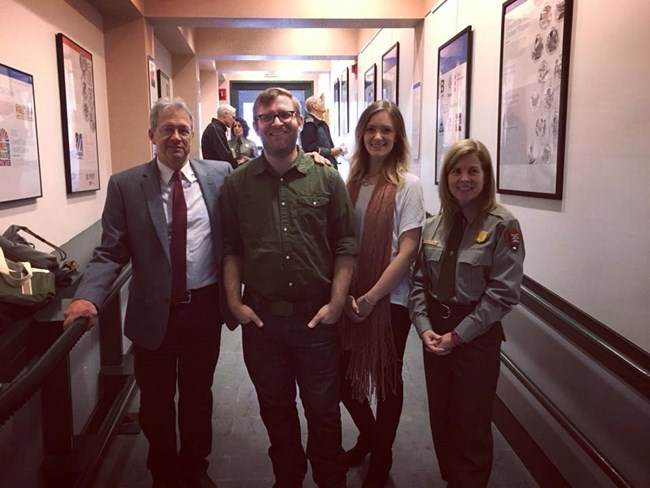 Branding Lowell: A History of Local Design opened at Lowell National Historical Park this past weekend. A cooperative effort between Lowell National Historical Park and the University of Massachusetts Lowell, the exhibit celebrates how the city, local businesses, and organizations used imagery which reflects Lowell's collective and evolving identity from founding to the present. Friends, family, and those interested in graphic design made their way to the Patrick J. Mogan Cultural Center Saturday afternoon to see this special exhibit.
Laurel Racine, Chief of Cultural Resources, coordinated the team including Lowell enthusiast/park volunteer Mark Van Der Hyde, UMass Lowell Senior Archivist Tony Sampas and UMass Boston Intern Sarah Black. Together they researched the history of local design and developed a rich and colorful exhibit of 25 wall panels and 4 cases of objects from the park's collection and on loan from graphic designers. The intent is to highlight the design history of Lowell, reconnect designers' names with their artwork, and demonstrate the creative process behind the polished logos the public sees.
Response to the opening was fun and immediate. Dozens of guests, many who remember seeing the images and logos in the past commented on where they were when they first saw them. Many designers involved in past campaigns were on hand and cheerfully recalled the complex effort to create an identity which needed to speak volumes with simple colors and shapes.
"Branding Lowell," will be on display at the Patrick J. Mogan Cultural Center until the fall. A companion on-line component is available at https://brandinglowell.net/. The exhibit is the first of many events scheduled for the park in celebration of its 40th Anniversary. Local coverage of "Branding Lowell" can be found here. http://www.lowellsun.com/news/ci_31755125/branding-lowell-exhibit.
Last updated: March 30, 2018