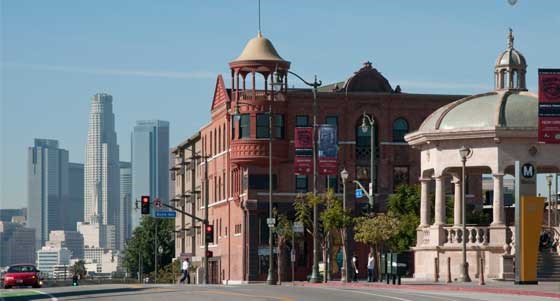 The ca. 1889 Boyle Hotel has been an important landmark in the Boyle Heights neighborhood since the area transitioned from farmland to one of the first suburban neighborhoods east of downtown Los Angeles at the end of the nineteenth century. Commanding a prominent position atop a hill overlooking downtown Los Angeles, the historic Boyle Hotel is the last remaining commercial building from the neighborhood's building and population boom in the 1880s. The building continued to operate as a hotel until 1918, when the upper floors were converted into apartments.

The Boyle Heights neighborhood has been traditionally a portal for many immigrant groups, starting with Irish and Jewish immigrants, and most recently with immigrants from Mexico, Central, and South America. The Boyle Hotel fronts Mariachi Plaza to the east where mariachi music – a folk-musical tradition from Mexico – can be heard performed by a number of mariachi bands that gather in the plaza. The building has also been known colloquially as the Mariachi Hotel due to the number of mariachis who lived in the upper-floor apartments.
The Boyle Hotel had fallen into disrepair and was at risk of demolition when the East L.A. Community Corporation (ELACC) purchased the building in 2006. ELACC, a nonprofit organization that provides affordable housing and community services, leveraged $23 million to rehabilitate the former hotel through a mix of local and state subsidies combined with private equity as well as low-income housing and historic tax credits. The rehabilitated hotel now houses 51 units of affordable housing above the ground-floor commercial spaces. In addition, the building houses a Mariachi Cultural Center and three rehearsal rooms for musicians. The Boyle Hotel has also been designated a local historic-cultural monument and continues to play a significant role in Los Angeles' mariachi music scene.