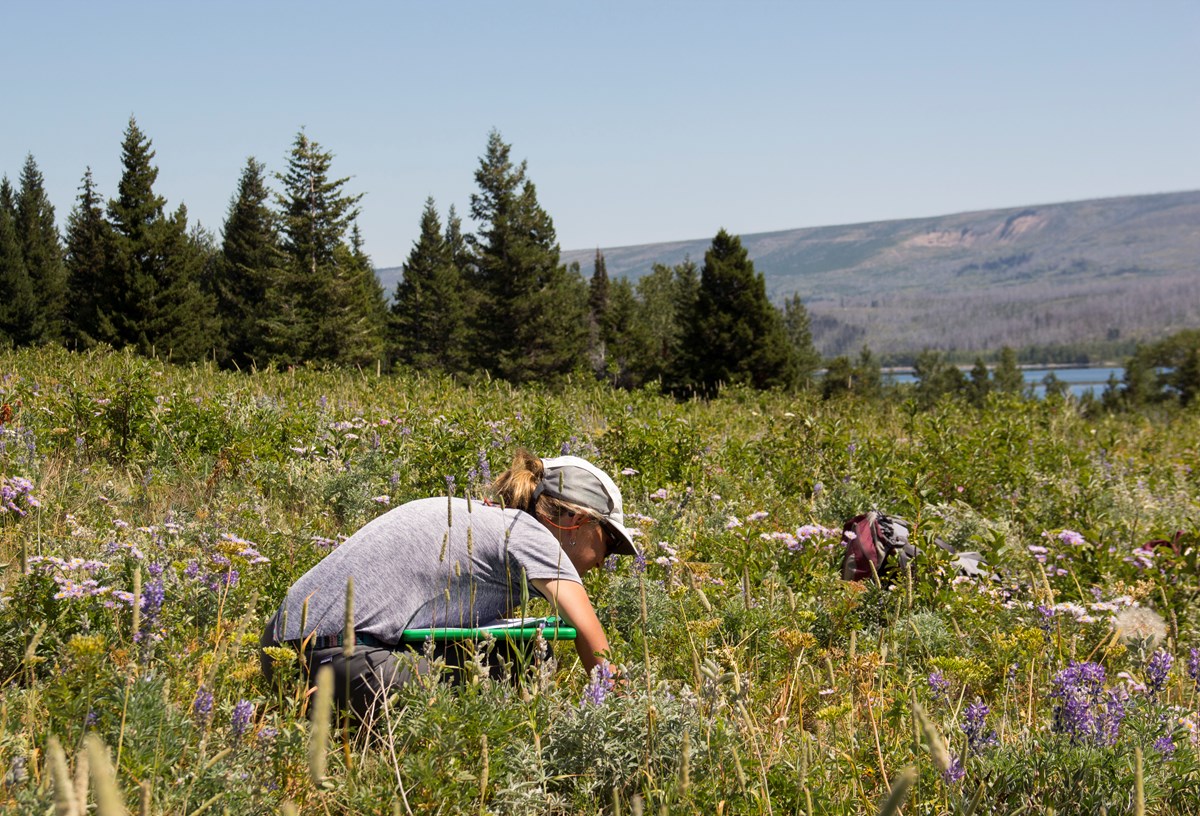 N
ational parks capture our hearts. They take our breath away. And raise our spirits.
Some places resonant more than others. They sink into our soul…our bones…our being. And some parks take hold of us, keep us coming back–perhaps even change our lives.
Glacier National Park is known to have that effect. If you try to shake loose from its grip, it has a magical power to call you back. Its mountains, its meadows, its streams–all calling to you, whispering for you to see, to touch, and to smell them once more.
But imagine all of those habitats if you are a botanist, a person who lives and breathes plants and notices the complexities of each one, from the tiniest pygmy poppy to the towering trees in the cedar/hemlock forest. And imagine each day you wake up, gather your field gear, and set out on foot to some unique area of the park. Once there, you look up at the tops of the trees hovering above you or look down at the valleys and streams glistening below. Then, you breathe in the sweet mountain air and get to work, laying out plots and recording the diversity of plant life found in that particular ecosystem.
Jen Asebrook and Jen Hintz, two seasoned Glacier botanists, have spent many a summer doing just that. Affectionately known as, "The Jens," these ladies come back each summer to document change within Glacier's plant communities. Their studies provide baseline data, essentially a snapshot in time, of how a particular plant community looks on a given day. Baseline data is essential in natural resource fields, for both plants and wildlife, because it documents what and how much is currently there, allowing scientists to come back and take note of any changes in the years to come.
Although Asebrook and Hintz monitor a variety of sites for a variety of reasons (i.e. restoration success after construction, changes to alpine plant communities due to climate change, etc.), I caught up with them one brilliant July morning while they monitored grassland sites just east of the Rising Sun Campground.
***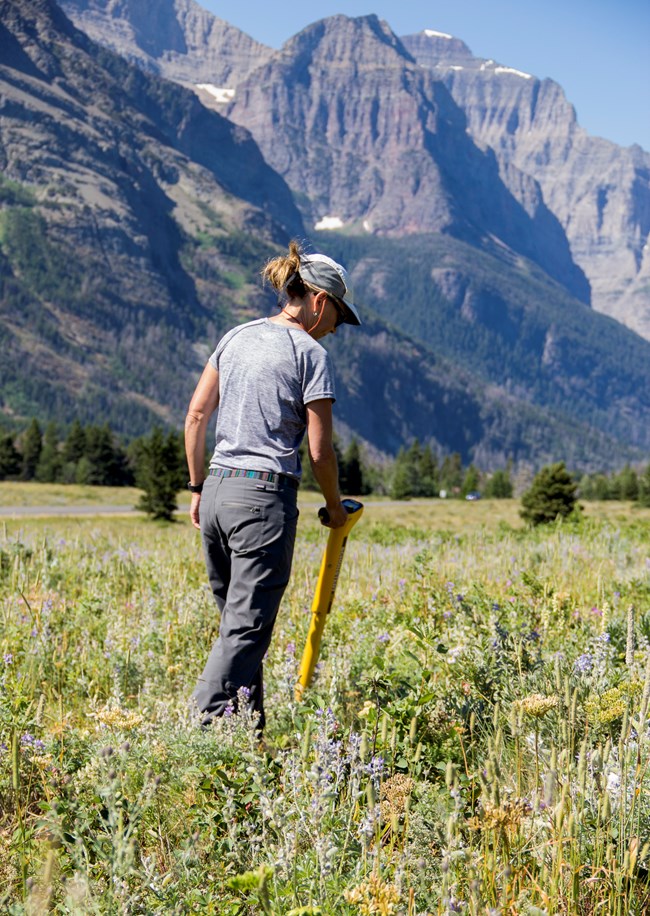 Thick with the pinks and purples of geranium, lupine, and asters, I push through the low vegetation within the open meadow, soaking in the last rays of the still forgiving morning sunlight. The Jens are ahead of me, searching for a waypoint on their GPS. They are trying to find plots first created 20 years ago.
At that time, park staff began to notice some of the park's valuable fescue grasslands were changing. Invasive species, like spotted knapweed, began to appear among the native Idaho and rough fescue along with agricultural grasses such as Kentucky bluegrass and smooth brome. These species began to creep up from park roads into the adjacent, native fescue grasslands on Glacier's east side. In addition, these grasslands rely on a twenty-year, light-fire interval to replenish nutrients and clear out trees and shrubs. Yet, many of the park's grasslands had not burned for nearly a century. These factors prompted park biologists to obtain funding for a grassland study that would provide baseline data on what grassland species existed and how trees, shrubs, and weeds were impacting them. Interestingly, the biologist in charge of the study—and the person who created the plots—happened to be a park employee named Jen Asebrook, a botanist fresh out of graduate school.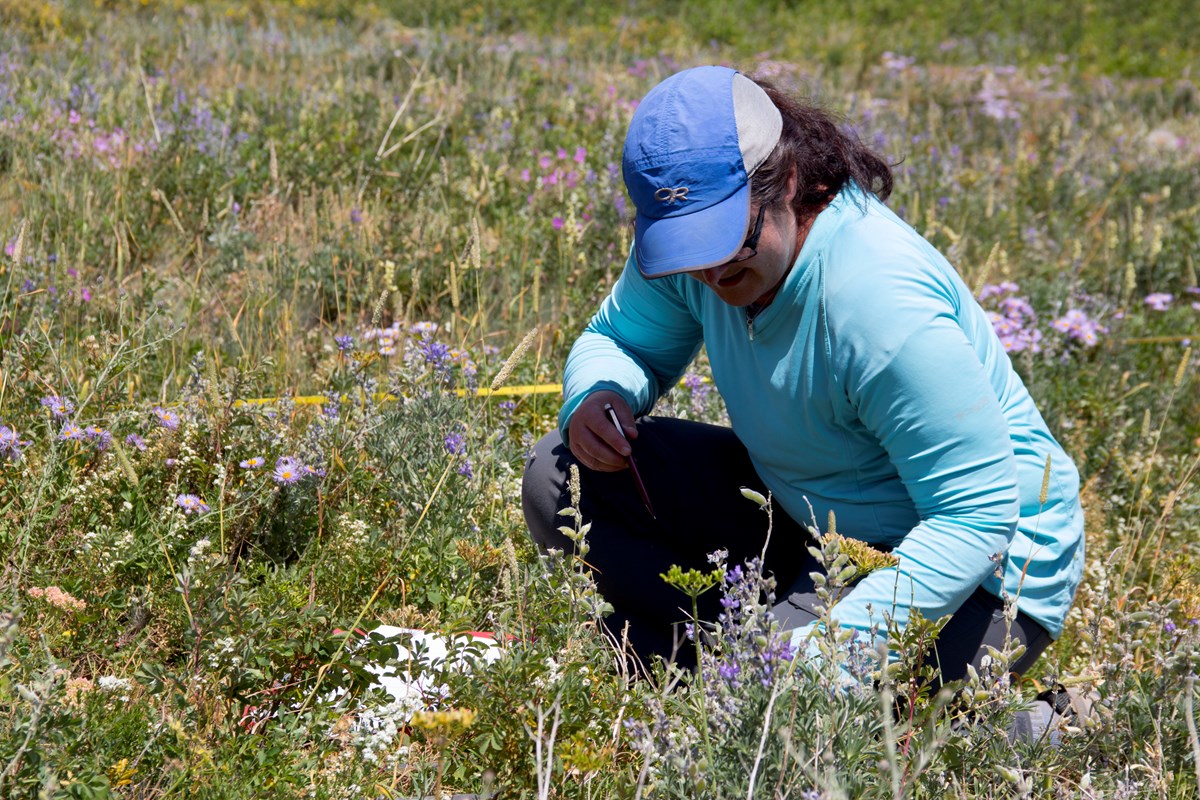 Twenty years later, Asebrook is still a botanist for Glacier and is now back searching for the metal stakes she used to mark the grassland plots' locations years ago. Using a metal detector, photos from 20 years ago, and a sixth sense, Asebrook and Hintz scour the landscape looking for the metal that marks the Rising Sun plot's location. Not an easy task with the amount of vegetation that has grown up. As the squealing buzz of the metal detector permeates the air, we walk back and forth, searching the ground. Nothing. The sun's rays change from welcoming to unwanted. The flowers lose their morning dew. And just as I begin to doubt the stake's existence, Asebrook casually announces she's found it. Finally, the transect can be laid out and the plots within surveyed for plant species and percent covered.

As the Jens begin to survey the plots within the transect, I ask them if they've noticed any additional changes to these grasslands in the last 20 years and what implications losing native fescue and forbs has for the ecosystem. Although the plots will supply data to confirm any changes on the landscape, Asebrook and Hintz have been so intimately tied to Glacier's ecosystems that they immediately tell me they are seeing grasslands being invaded by shrubs and trees as well as noxious weeds. It worries them because these open meadows provide essential habitat for certain species of birds, mammals, and invertebrates.

In fact, grasslands are prime foraging grounds for many species such as elk, deer, grizzly bears, and small mammals. Certain bird species, including mountain bluebirds and vesper sparrows, rely on these grasslands for nesting and foraging habitat as well. Losing this habitat not only reduces Glacier's plant diversity, but also essential habitat for many different wildlife species.
Today, as I watch the Jens artfully comb through each plot, recording everything from a half-dead blade of grass to a swaying, lavender lupine, I can't think of two better stewards of Glacier. Their dedication to this place is not just seen in their work, but how they describe their work. I begin to wonder what drives them to come back each summer. Why they give up other opportunities to return each year. Of course one might argue that the job itself is the reward, getting paid to work in a place like Glacier. I'm sure that is part of it, but I'm not totally convinced it's all of it. So I ask them. The answers are heartfelt.
Asebrook explains that yes, she initially fell in love with Glacier's landscape and its wide range of habitats. "Still today," she adds, "there are places in Glacier where its pure beauty brings me to my knees." But, the beautiful landscape isn't the sole reason for her coming back each year. Rather, her passion in returning season after season stems from her love of knowing and learning about this place. Asebrook feels that only a lifetime of study and exploration can create the intimate connection one needs to understand a landscape such as this. This connection fosters an understanding of the biological components of the ecosystem, but more importantly creates a tie to the land, one that drives her to care for and fight to protect it.
Hintz agrees that it's the beauty of the place that gets in your blood, but adds, "It's also the work. I love feeling like my work is important and that you feel you are making a difference each and every day." Hintz also informs me that in addition to the work, what makes this place special is the people. The people that live, work, and volunteer here are passionate about this place and some of the best people she's ever met.
Two, long-term, seasonal botanists explain what they love about working in Glacier National Park. Get the whole story on these researchers and their monitoring efforts in Glacier's grasslands on our Research Highlights page.

Duration:

1 minute, 59 seconds
As the Jens roll up the transect tape, I pack my gear and begin to head out of the sundrenched meadow. I think about their work, their passion, and their dedication. And I think about their words too. Perhaps a place is special because of its beauty, its uniqueness, and its significance. But what about the people? For centuries, humans have sought solace here—have felt the magic of this land, honored it, and worked to preserve it. What if all the spirits that came before us—those people who cared so much about this place—are adding their voices to it? Perhaps they call us back, help us make connections, and guide us in preserving this landscape. Glacier may be a botanist's dream, but its future relies on all of the dreamers of the past, present, and future. Those who have dedicated a part of themselves to taking care of this place—just like two, long-time botanists I know, who are affectionately called "the Jens."

Last updated: November 26, 2018